Film Review – March – by Chris Amos
This Means War
Out 2 March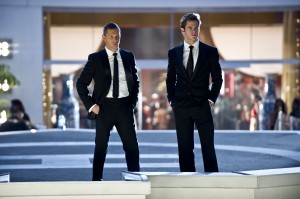 Screen hunks Chris Pine and Tom Hardy are the world's deadliest CIA operatives, inseparable partners and best friends until they fall for the same woman played by Reese Witherspoon. Having once helped bring down entire enemy nations, they are now employing their incomparable skills and an endless array of high-tech gadgetry against their greatest nemesis ever – each other. Quite silly but a lot of fun, throw in yummy eye candy and we have a hit.
Wanderlust
Out 2 March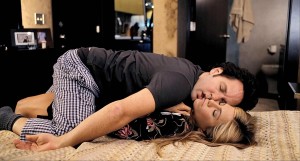 Paul Rudd and Jennifer Aniston star in Wanderlust, a comedy from director David Wain (Role Models) and producer Judd Apatow (Knocked Up) about a couple who leaves the pressures of the big city and joins a freewheeling community where the only rule is to be yourself. George (Rudd) and Linda (Aniston) are an overextended, stressed out Manhattan couple. After George is downsized out of his job, they find themselves with only one option: to move in with George's awful brother in Atlanta. On the way there, George and Linda stumble upon Elysium, an idyllic community populated by colourful characters who embrace a different way of looking at things. But will the change of perspective cause more problems than it solves?
Bel Ami
Out 9 March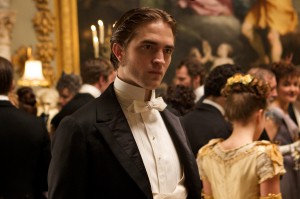 Based on the novel by Guy de Maupassant, Bel Ami chronicles the rise of penniless ex-soldier Georges Duroy (Robert Pattinson) through the echelons of the 1890s Parisian elite and is a tale of ambition, power and seduction. Also starring Uma Thurman, Kristin Scott Thomas, Christina Ricci and Colm Meaney. Bel Ami is A timeless epic with a modern twist. A Dangerous Liaisons for a new generation.
John Carter
Out 9 March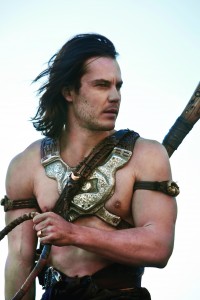 Leaving animation behind, Academy Award-winning filmmaker Andrew Stanton (Wall-E, Finding Nemo) brings the classic novel John Carter to the big screen. The film tells the story of war-weary, former military captain John Carter (Taylor Kitsch), who is inexplicably transported to Mars where he becomes reluctantly embroiled in a conflict of epic proportions amongst the inhabitants of the planet, including Tars Tarkas (Willem Dafoe) and the captivating Princess Dejah Thoris (Lynn Collins). In a world on the brink of collapse, Carter rediscovers his humanity when he realizes that the survival of Barsoom and its people rests in his hands.
21 Jump Street
Out 16 March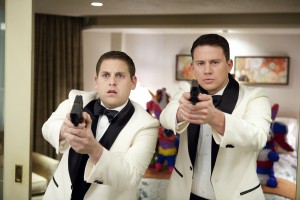 In the action-comedy 21 Jump Street, Schmidt (Jonah Hill) and Jenko (Channing Tatum) are more than ready to leave their adolescent problems behind. Joining the police force and the secret Jump Street unit, they use their youthful appearances to go undercover in a local high school. As they trade in their guns and badges for backpacks, Schmidt and Jenko risk their lives to investigate a violent and dangerous drug ring. But they find that high school is nothing like they left it just a few years earlier and neither expects that they will have to confront the terror and anxiety of being a teenager again and all the issues they thought they had left behind.
We Bought A Zoo
Out 16 March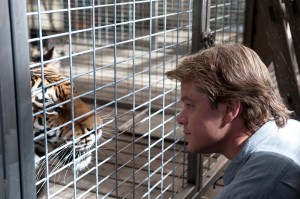 Acclaimed filmmaker Cameron Crowe (Jerry Maguire, Almost Famous) directs an amazing and true story about a single dad (Matt Damon) who decides his family needs a fresh start, so he and his two children move to the most unlikely of places: a zoo. With the help of an eclectic staff, and with many misadventures along the way, the family works to return the dilapidated zoo to its former wonder and glory. Very over the top with emotion and cliches but all the same We Bought a Zoo is feel-good.
The Hunger Games
Out 23 March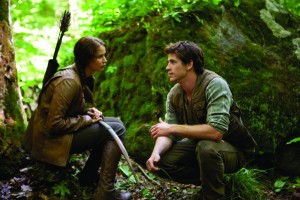 Every year in the ruins of what was once North America, the nation of Panem forces each of its twelve districts to send a teenage boy and girl to compete in the Hunger Games. Part twisted entertainment, part government intimidation tactic, the Hunger Games are a nationally televised event in which "Tributes" must fight with one another until one survivor remains. Pitted against highly-trained Tributes who have prepared for these Games their entire lives, Katniss is forced to rely upon her sharp instincts as well as the mentorship of drunken former victor Haymitch Abernathy. If she's ever to return home to District 12, Katniss must make impossible choices in the arena that weigh survival against humanity and life against love.
BFI LONDON LESBIAN & GAY FILM FESTIVAL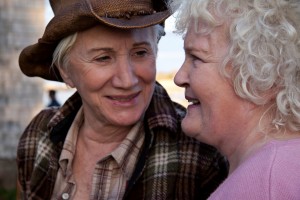 The 26th London Lesbian & Gay Film Festival Festival takes place at London's BFI from 23rd March to 1 April 2012. The full line-up can be found at www.bfi.org.uk/llgff
The Opening Night film on 23rd March Cloudburst is Thom Fitzgerald's Cloudburst. Starring Oscar-winning actors Olympia Dukakis (Moonstruck, Steel Magnolias) and Brenda Fricker (My Left Foot, Home Alone II as a pair of septuagenarian lesbian lovers, the film is an unpredictable,  heart-warming and romantic road movie.
FILM BUZZ
There will be a prequel to I Am Legend based on Richard Matheson's novel. Will Smith is scientist Robert Neville, who in the first film was believed to be the last survivor on Earth following a terrible virus that either wiped out the population or turned them all into mutants.
Zorro is coming back to the big screen this time titled Zorro Reborn and apparently instead of a period piece the film will remain a western, but will be set in a desolate and post-apocalyptic future with echoes of both Sergio Leone and No Country for Old Men. Gael Garcia Bernal will star.

Meryl Streep and Julia Roberts will star alongside one another in an adaptation of Tracy Letts' Pulitzer and Tony Award-winning darkly comic play August: Osage County.
Guillermo del Toro is set to direct a new adaptation of the classic tale Beauty and the Beast with Harry Potter star Emma Watson in final negotiations to star as Belle. Andrew Davies, who co-wrote the recent The Three Musketeers adaptation with Alex Litvak is set to write the screenplay based on a treatment del Toro will write himself.
Darren Aronofsky is eying Russell Crowe to play the lead role in Noah. The film is said to be "an edgy retelling" of the story from the Bible's book of Genesis in which God, saddened by the wickedness of mankind, sends a flood to destroy all life on Earth, but before he does he instructed Noah to build a great ark and on it he saves his family and two of each animal species.
It is now simply too good to be true, Charlie Kaufman's blistering Hollywood satire (and musical), Frank or Francis, has gained big names including Jack Black, Nicolas Cage, Steve Carell, Kevin Kline, Catherine Keener and Kate Winslet, Elizabeth Banks and Paul Reubens (Pee Wee Herman).