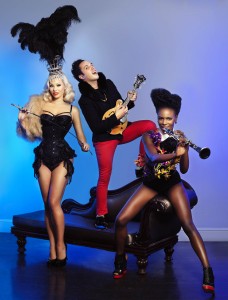 Immodesty Blaize is unanimously credited with spearheading the burlesque renaissance in Europe. Having performed alongside music artists such as Goldfrapp, Marc Almond, Roxy Music, Barry Adamson, and Nick Cave, Immodesty is now creating a full music and performance collaboration with The Noisettes, in this new show 'Looking For Trouble'. Bringing together the band's legendary energy with the dramatic, high voltage visual feast of Immodesty's peformances, this fully integrated, avant garde show will see Immodesty showcasing new material as part of this special event.
With the Noisettes it's always best to expect the unexpected; and true to form, this collaboration with Blaize crosses the boundaries between music, high fashion couture, and performance art – Combining rock and roll, retro styles and fierce glamour in a fast and furious flurry, it sees in the Christmas Season with more than a bang.
The Noisettes, with their full seven-piece band, will be presenting a combination of their classic hits, and giving exclusive previews to many of the new songs due to be released in spring 2012.
8th December – HMV Picture House – Edinburgh
10th December – HMV Forum – London