DVD Release and Competitions
BRIDESMAIDS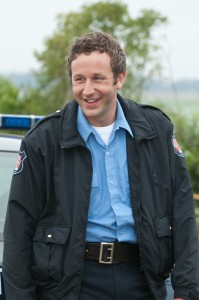 He's tall, tanned and toned, his hair falls perfectly onto his chiselled face, he has a high paying job and looks great in a tight white t-shirt. Why does all of this mean that he obviously has a genetic predisposition to being such a twat?!
Just as Annie from smash hit comedy Bridesmaids struggles to find a balance between the arrogant but beautiful "f*** buddy" and the sweet and sensitive policeman, the boys here at BENT can also struggle a bit between choosing the sensible Mr Right, and the oh-so-hot Mr Right Now.
To celebrate the film's release on Blu-ray and DVD on November 14th, we've pulled together our years of experience to give you the top ten reasons why it's better to go with the nice guy.
1.       He tries harder
So he's not a Greek god, chances are he knows this and makes up for it when the lights go down.
2.       He's has more time for you
He's probably not spending every waking moment in the gym pumping iron and it's unlikely he takes a blow dryer to his mane every morning, which means he has more time to cuddle up and keep you warm on those cold winter mornings.
3.       He won't make you look bad at dinner
Because there's nothing worse than sharing a meal with someone who orders no-carbs, no-gluten, no-red meat, no alcohol – no fun.
4.       His friends and family don't hate you
Let's face it, you're a catch! And he probably knows he's punching above his weight.
5.       He's a cheap date
He has no idea what Prada or Gucci is – bless him. Shopping is a bit more practical for you now and less expensive.
6.       He's not just a pretty face
Well, obviously. But odds are he paid attention in school when others were catching glimpses of their own reflection from shiny surfaces.
7.       There's more of him to love
Playing with his loveable overhang has become adorable, there are also more places to grab on to – should you ever need to.
8.       He's a hopeless romantic
He has paid attention and works hard for your affection, watch out for 'just because' flowers and romantic gestures – and you thought romance was dead.
9.       He buys the drinks
And he's not just trying to get you drunk, well he might be but after the fourth or fifth you probably won't care.
10.   He's honest
You're blinded by his charm, compassion and charisma, but you might be on your own here. Cheating probably won't be a problem for you, he knows what he has and he couldn't be happier.
Bridesmaids is available to own on Blu-ray and DVD from November 14th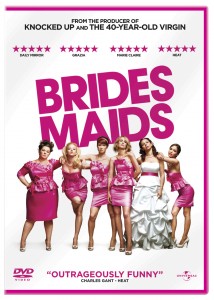 To be in with a chance of winning a copy of this DVD, just answer this simple question:
What is the male equivalent of Bridesmaids?
A, Groomguys. B, Ushers.C, Weddingpals
BARKING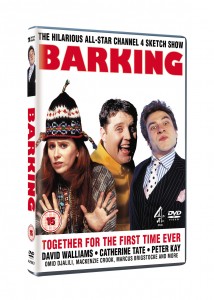 In the late 90s a talented bunch of up-and-coming comedians put their comedic heads together and wrote an hilarious sketch show for Channel 4; the result was Barking and their names: David Walliams, Omid Djalili, Mackenzie Crook, Catherine Tate, Peter Kay, Dave Lamb, Rhys Thomas, Marcus Brigstocke, Matt Lucas, amongst others.
Out: 7 November –  Acorn Media.
To be in with a chance of winning a copy of this DVD, just answer this simple question:
David Walliams has raised money for Comic Relief by doing what? A, Swimming. B, Parachute Jump. C, Holding a Dinner Party.
LONGHORNS
It's a Texas college circa 1982 – big hair, loud shirts and cowboy boots are considered high fashion, men are men, women are just future wives (or current sluts), and there is nothing gay about helping a guy out! Good ol' fratboy Kevin is straight as an arrow (if you don't count his gay fantasies when shagging his girlfriend, or jerking off his fellow frat brothers) but he begins to see things a little queerly when he meets the sexy and openly gay César. Can a straight guy fall for another dude?
Fast, fun and sexy.
Out: 21st November – tla releasing
To be in with a chance to win a copy of this DVD, just answer this simple question:
What are Longhorns? A, Students, B, Cattle. C, Devil Worshippers.
THE BEST OF RUDE TUBE
Join Alex Zane as he shares his favourite animal antics, freaky skills, total fails, cyber celebrities and mind-boggling pranks and stunts in 150 minutes of mind-blowing entertainment. It's also packed with added features, exclusive clips never seen before on TV, extended interviews with the stars and an extra bonus section dedicated solely to OMG Cats! So why spend hours trawling the internet looking for the funny stuff when the best of the best is right here and ready for viewing over and over again?
Out: 21st November –  Acorn Media
To be in with a chance to win a copy of this DVD, just answer this simple question:
In the title Rude Tube… to what does Tube refer?
SARAH MILLICAN – Chatterbox LIVE
In the year that saw her nominated for two British Comedy Awards, complete a nation-wide sell out tour and become a regular face on the UK's top comedy television shows, Sarah Millican has ascended to become one of the nation's best loved comedians Chatterbox LIVE is a chance to experience Sarah's sell out tour in your living room. Ruder than on the telly, the DVD showcases Sarah's unassumingly hilarious views on modern life, positioning her as a comedian at the very top of her game.
Out: 21st November – 4DVD
To be in with a chance to win a copy of this DVD, just answer this simple question:
Sarah is from which part of the UK? A, Scotland. B, The North East. C, Essex.
X-MEN: FIRST CLASS
This is the prequel to the original X – Men movies on how it all started. Charles Xavier, a gifted Oxford University graduate with the power to read minds has been under CIA surveillance for some time when agent Moira MacTaggart tracks him down to help her recruit a team of mutants. Their mission is to take on Sebastian Shaw a megalomaniac supremacist plotting nuclear Armageddon between America and Russia. Meanwhile, they aren't the only mutants out for revenge and maybe by joining forces the mutants could become something very special.
Out now – DVD & BluRay – 20th Century Fox Home Ents
To be in with a chance to win a copy of this DVD, just answer this simple question?
Who played Charles Xavier in the first two X-Men movies?