Music Competition: September 2011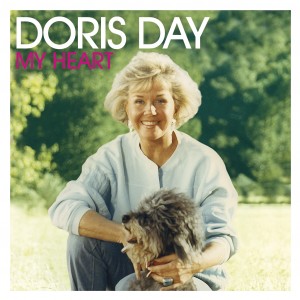 My Heart by Doris Day
This exciting collection is Doris Day's first studio album of new material in 17 years; a dozen songs of a timeless quality, with nine brand-new recordings produced by Day's late son, Terry Melcher, plus a trio of Day classics.
The iconic movie and recording star has been fully involved with the musical selections for this special release. Her son Terry Melcher – who was known as a songwriter and producer for folk-rock pioneers The Byrds ("Mr. Tambourine Man") and other artists – co-wrote four of the new songs with Beach Boys member Bruce Johnston: the emotional title track 'My Heart,' the romantic 'The Way I Dreamed It,' the haunting 'Happy Endings' – sung by Melcher with a newly recorded spoken-word introduction by Day for her fans – and the catchy new Doris Day single release 'Heaven Tonight.'
Also on the set list are three classic rock-era favourites: 'You Are So Beautiful', 'Daydream' and 'Disney Girls'. "I had to sing some modern songs," Doris remarks, "because I had already done all the old ones."
Ms. Day says that she's delighted her music has withstood the test of time and that she still has a loyal listenership, spanning the generations. "It's just such a thrill, and I'm honoured" she says.
My Heart – 5th September – Sony Music www.DorisDay.com
To be in with a chance to win a copy of this fantastic album, simply answer this question.
Doris Day starred in a series of RomCom movies opposite Rock_________?
---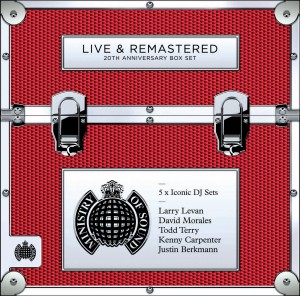 Live & Remastered– MOS 20th Anniversary Boxset
2011 is a significant milestone in Ministry of Sound's continuing evolution marking the 20th anniversary of the South London venue opening its doors as an alcohol-free nightclub dedicated to house music on 21st September 1991. As you'd expect from the label that sparked the DJ mix album revolution (and today's leading compilation provider), Ministry of Sound are celebrating their 20th anniversary with this album, 'Live & Remastered'.
What you have before you is not just a deliciously put together compilation; 'Live & Remastered' is a time capsule. For in the early days, the men and women at Ministry of Sound hit the record button on their DAT machine each week and captured what were not just great sets by the era's finest DJs, but also a slice of dance music history, too.
The sets you are about to load on your desktop or place on your CD player are not recreated from archaeologists' dust or polycarbonate moulding, but actual live recordings of five DJs at the peak of their game: Larry Levan, David Morales, Kenny Carpenter, Todd Terry and resident and co-founder, Justin Berkmann.
To be in with a change of winning this fantastic album just answer this simple question:
What year did the Ministry of Sound open in London?
Out: 19th September – MOS
---

Bent Magazine Prize Draw Terms & Conditions
1. The prize draws are open to UK residents aged 18 and over. 2. No purchase is necessary. 3. Only one entry per person is allowed and multiple entries will result in an entrant being disqualified. 4. The deadline for receiving entries for the competition is the last working day of the magazine's month. 5. Winners will be notified within 28 days after the competition closes. 6. Proof of delivery or email will not constitute proof of entering the prize draws and no responsibility will be accepted for lost, corrupted, delayed or mislaid entries. 7. The winner(s) will be the first valid entry drawn at random. 8. Bent reserves the right to substitute the prize for another prize of equal value. 9. There are no alternative cash prizes. 10. Bent Magazine's decision is final and no correspondence will be entered into. 11. When you enter a prize draw, your details will be used to provide you with updates, information and promotions from Bent and other members of APN Ltd. You can opt out at any time by following the Unsubscribe link on the bottom of every email or by sending an email to unsubscribe@bent.com asking to be removed from our mailing list. 12. By submitting an entry, all entrants acknowledge and accept these terms and conditions. By taking part in any prize draws or competitions, you agree to be bound by these rules and the decisions of Bent Magazine which are final. 13. Bent Magazine reserves the right to disqualify any entrant and/or winner in its absolute discretion for any reason and without notice.