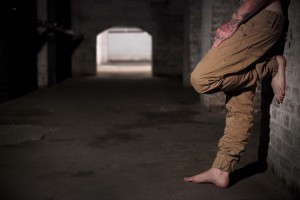 Raw
Denim specialists MQT are back with an industrial, raw collection with a hard yet contemporary edge. Showcasing their arsenal of denim and chinos in select accounts such as Selfridges and Flannels, this 3rd generation, family run label is taking attention to detail to the next level. This season's collection sees brave designs manufactured with innovative details with variations of the drop crotch style and elasticated ankles being a key look.
£70 – www.selfridges.com
---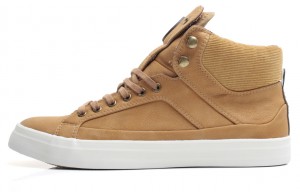 A boot with taste
The mid-top boot 'Shrimp' is a perfectly crafted example from the still relatively fresh label to the high street, Fish 'n' Chips. A thick rubber sole unit supports an upper that boasts a whole host of details and features. Shrimp takes a sturdy casual boot design and piles on top details including hiking inspired lace hooks, a cushioned corduroy cuff and a twin layer tongue that can be folded into the laces to bring a neat individuality to the boot.
£49.99
---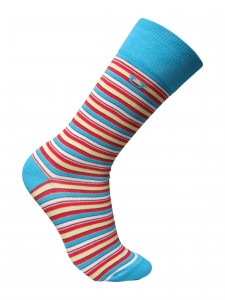 Stripe up your feet
Bored or your plain multipack socks? These Mundo Unico Coral Socks dazzle in a horizontal striped pattern in red, turquoise, yellow, white and black with a turquoise toe, heel and cuff.
£7
---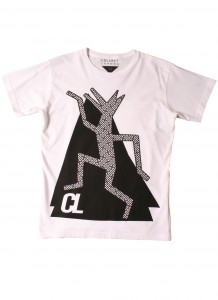 T-Fit
British brand, Collect London has a brand ethos that's all about achieving the perfect fit, it aims to give consumers a tailored service where they can choose the style that is right for them. Whether be it a slim, regular or relaxed cut. The style conscious men and women of today are presented with a unique range of T-shirts offering comfort, quality and individuality.
£35 www.collectlondon.com
---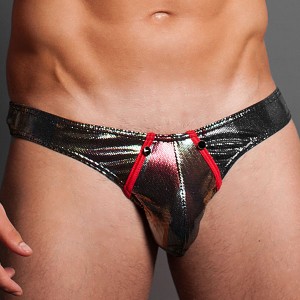 Glittery and gorgeous
The matt black fabric of this Doreanse thong is covered with an abundance of little sparkly dots which merge from metallic hues of silver, ice blue, and turquoise to rust, gold and pink. At the pouch, there is an additional layer of peachy soft fabric inside so you stay nice and comfy. Two diagonal red stripes and black faceted buttons dress the exterior of the pouch and at the rear the shimmery fabric tapers to form the 1.5cm wide thong. Also available in a metallic red and silver colour choice.
£12 www.deadgoodundies.com
---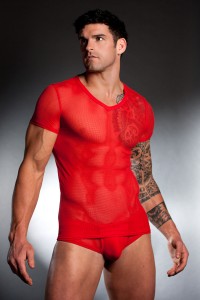 Hot Mesh
Does it get any hotter than fiery red mesh? This Doreanse T-shirt's super sheer fabric is perfectly matched to the 1584 hipster in the same colour. The top has short sleeves and V neckline. Guaranteed to keep all eyes on you.
£18 www.DeadGoodUndies.com