A Loose Woman on the Road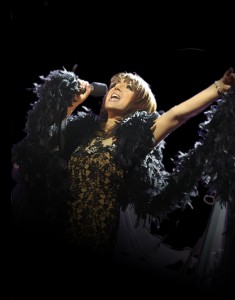 Jane McDonald rocketed to stardom in 1998 when she first appeared on our screens in the BBC 1 docusoap The Cruise, as top of the bill on board the ship 'The Galaxy'. The series attracted 13 million viewers and Jane McDonald emerged as a star and household name, an incredible 13 years later her career continues to take her to amazing heights. We caught up with Jane to find out what fans can expect from her upcoming tour.
What first got you interested in performing and music?

When I was 7 years old my parents decided to move and we were looking at new houses.  One of the houses had a piano in it and I couldn't tear myself away.  My grandmother looked at my mother and said "we need to get a piano", I then took piano lessons for the next 7 yrs.
How was life on the cruise ships? Was it a vigorous schedule?

Life on the cruise ships was FANTASTIC! It was one of the best experiences ever.  I travelled the world on a luxury liner for 8 years sang my heart out every night and got paid for it.  It was a vigorous schedule, 10 shows a week.  But it was a blast.
We haven't heard a lot from you over recent months what have you been you up to?

It's funny how if you're not on the TV everyone thinks you're dead! My feet have not touched the ground in a year, I have been working putting a new team together, new band, new Musical Director, new songs etc, also I have been writing some new songs for my next album which will be out next year.
I've also completed a spring tour this year and I'm getting ready to go back on the road from September for 2 months!.  I also produced the new show, and designed all the costumes I wear with my very talented Seamstress.
Over the past few years you've been a regular on our screens as a panel member of Loose Women but sadly you departed last year – How was being on Loose Women for you and was it hard to leave?

I absolutely loved being a Loose Women for six and a half years and the only reason I left was because it went live every day. It was extremely difficult to leave; thankfully the door is open for me to return when I have a little more time to do so.
You are to say the least a huge icon to gay men how does it feel to have such a big following of fans?

I am very flattered with the icon tag, but think you are being too generous.  I am thrilled to have so many gay followers and I love it, but think the icon league is maybe a little way off yet, but I'm working on it!
Later this year you'll be setting off on tour, do you enjoy meeting fans and interacting with them in that kind of environment?

The great thing about being on tour is the connection with the fans.  I recognise so many now and know a lot by their names.  I feel very blessed and grateful to them for their loyalty and support over all the years.
What can fans expect from you in the future?

My fans can expect a party every night on the Autumn Tour!  We have the big Diva songs like "You're My World", "This is the moment" and the DreamGirls section, plus we have Motown and Disco Medley's. Gowns to die for, comedy banter with myself and the one and only Sue Ravey. Plus, I am working on a brand new album which will be out in 2012, plus there are some very exciting new projects that I'm working on, so there's lot's to look forward to!
Jane's autumn tour dates can be found at:
www.jane-mcdonald.com and https://mag.bent.com/secret-hook-up-apps/