Johans Blog: Sex on the beach… but I prefer a hotel room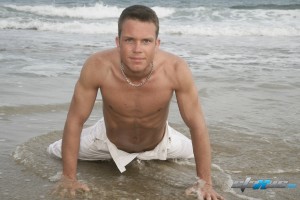 To be perfectly honest, I really urgently need a holiday. After all, the last few weeks have just been way too busy!
We've finished the redesign of our streaming site, www.Homoactive.TV, and in the meantime I've been shooting countless new scenes for our internet club-site, www.RawFilms.net. But okay, I admit it – the shooting of these scenes has really been more fun than work. Indeed, it begs the question: can having sex with loads of cute boys actually be classed as "work"?!
Sometimes I actually wonder whether being a bottom for the camera might not just be a whole lot easier. After all, what exactly does a bottom do? They lie down on comfy pillows, lift themselves up and open their asses a bit. Okay, so they also have to moan every few moments for the camera, but that's pretty much it. Meantime, us tops have to do all the work. We fuck, we move, we penetrate – and in most cases we have to stand on little boxes just so that the director can get just the right angle to film us fucking the lazy 'bitch' who's comfortably snoozing on the couch, table, bar or whatever!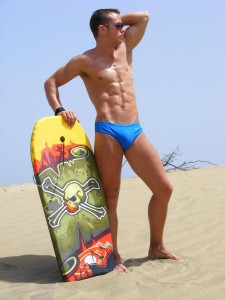 Nevertheless, I won't complain. In fact sometimes when I'm with my boyfriend I also take the opportunity to lie down with my legs in the air so that he can service me!
Anyhow, back to my holiday needs, and with the summer now in full swing I want to enjoying as much time outside as possible – in the beer-gardens, at barbeques, and (of course!) cruising in the public parks. No doubt about it, I really do miss the beaches and the warm sunshine.
All that said, whilst I enjoy playing volleyball on the sand or having a nice cold beer in a lounger, I don't actually think much to having sex on the beach or in the dunes. My personal opinion is that it's totally overrated! Besides, I've had sex in the dunes countless times already – mostly for movie scenes for my studio, STAXUS – and I rarely enjoyed any of them. What's more, they're definitely not the place for "private" encounters.
I remember one of the last such sessions I had was on a sunny island in southern Spain. There was this sporty looking guy on the beach – maybe aged about 22, with black hair and (I guess) a 85% European/15% Asian mix. Altogether, a very interesting proposition. We spent several hours engaging in some rather intense eye contact, until finally he came up to me, took me by the hand and led me into the dunes. After we'd found some isolated bushes, he went down onto his knees, pulled down my Speedos and gave me a really nice blowjob that I must admit I thoroughly enjoyed. But when it came to me sucking him I could only taste sand in my mouth! Obviously he'd been at the local nudist beach before and had got a lot of sand in his pubes and on his cock, so you can quite imagine that I didn't spend a great deal of time playing with his dick. Instead I focused on more essential things – especially after I realized that we'd already gained a bit of an audience, with approximately 10 people stood around us in a kind of circle watching our every move. So I rolled a condom onto my hard cock, spat on it and started to fuck him! Unfortunately, after just a few thrusts the guy started to complain. The reason? Well, the sand in his ass and on my dick had started to work like emery paper inside, and whilst some tough fisting type of S&M guy would've loved all that abrasive action it clearly wasn't for my posh guy here. As a result we had to stop the anal session and finish off with a somewhat disappointing wanking session. Our audience – which by this point had grown to about 30 guys – clearly wasn't amused and started to shout out some rather stupid comments. Some of the older chaps even came up to us and tried to join in and whilst the session ended in a series of cum-shots, I can assure you that I didn't find it satisfying at all. I can only assume that our audience had more fun than I did, which is why I recommend forgetting the whole notion of having sex on a beach!
So whilst I'm hoping to have some holidays pretty soon – with lots of hot, sweaty and horny sex! – I'm planning for the action to take place in some plush, air-conditioned, comfy bedroom or perhaps in or beside a nice outdoor pool.
Enjoy the summer!
Kiss
Johan