It would appear that there is no let-up in the desire for new designs in men's underwear. It seems every month new and exciting brands and products appear, as if by magic, in competition to cover our little (or not so little) treasures. It isn't that long ago that the choice was briefs or boxers in a limited number of colour varieties… often only white.
Once we got the hang of colour then all hell broke loose and we demanded more, which is exactly what we got. So, now a man's 'undies draw' is packed with all manner of sexy, sheer, sensible(?) bits of fabric that send so many of us into paroxysms of delight. There is something to suit all tastes from the almost invisible pouch to the heavy union suit and plenty in between. The number of underwear blog sites proves just how popular this subject is and how we really cannot get enough of these fabulous garments. One of the most popular sites is – www.underwearfanatic.com have a look… or even create your own.
---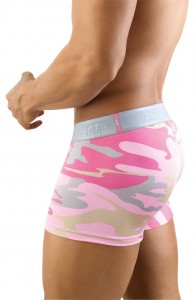 Meanwhile, South American brand Pikante has finally landed here in the UK. So, what are our first impressions of the Pikante range? I think it's fair to say that Pikante have released some exciting, extreme, sexy and damn good value men's underwear. Coming from the same stable as Clever Moda gives Pikante a good underwear pedigree.
---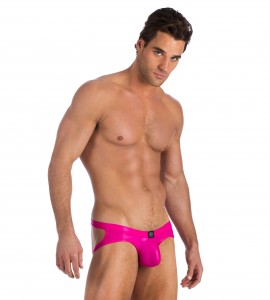 Jock Boy
Trust Gregg Homme to add a spicy twist to the classic Jockstrap design. I almost don't need to write a review about the Gregg Homme Boy Toy Jock; I can sum up all the information you need in a few short words: It's from Gregg Homme (so you already know it's going to be great); it's a sexy wet look Jock, and it forms part of the new Gregg Homme Boy Toy (or is it BoyToy?) collection. That's pretty much all you need to know.
£36
---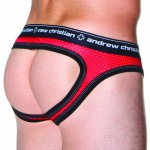 Andrew Christian Air Jock
This modern take on a classic sports jock is proving so popular that the supplier has to work overtime to keep up with demand. The fabric and design are simply -Sexy, slinky, stunning, supportive and… did I mention so damn sexy?
£15.49 Comes in three colours Red, Black & Blue
---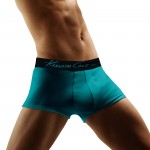 Kenneth Cole
New York based fashion designer Kenneth Cole has recently launched his underwear range exclusively here in the UK. These striking pants feature fine, gauge, cotton-jersey technology for uncompromised comfort and fit and are only available from House of Fraser stores.
From £15-£18
---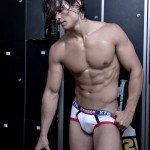 XTG
XTG Underwear GymBoy Brief is a low rise brief with a soft contrast elastic waistband. The body of the brief is made from a ribbed white stretch cotton and has contrast binding at the front pouch and legs. Made from 90% cotton and 10% spandex.
£22
---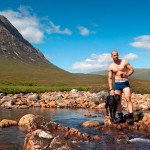 Bluebuck
The Bluebuck man is confident, strong and unashamedly masculine, and has largely been ignored by menswear designers… until now! Bluebuck understands this man. Understands that self-confidence is more attractive that self-obsession. That is why Bluebuck's underwear delivers quality, comfort, fit and the feel of designer underwear without the over-fussy styling and unsubtle 'designer branding'.
Available in a vast range of colours (well, white and blue) and an enormous range of styles (brief, trunk & boxer), this underwear appeals to a man who is 100% masculine, but not macho; who takes care of himself, but doesn't obsess over his looks; who is into sports rather than spending hours in the gym; who makes choices based on substance, not image.
Briefs: £18, Trunks: £20, Boxers: £22
---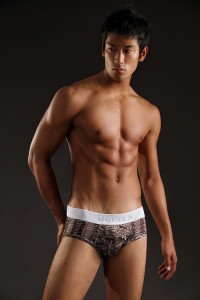 Getting a boner
Alexander McQueen Bone Print Brief – In keeping with the designer's penchant for skulls, this pair of unique briefs takes inspiration from Alexander McQueen's signature motif and eye catching bone print.
£60
---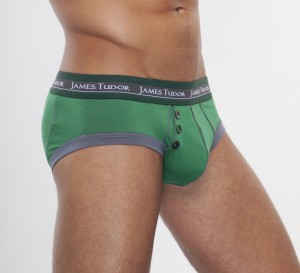 Retro Brief
A pop inspired brief available in a range of bright block
colours. Cut for extra comfort and fit, the Retro Brief includes
button detailing and branded James Tudor waistband.
£22
---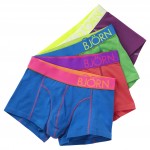 Summer Block Colour
High Quality – High Impact Björn Borg is well known for their playful, vibrant and daring underwear range, with imaginative patterns in various different colour combinations. The new collection is perfect if you are looking for both high quality and high impact underwear.
£39 – available from Selfridges
---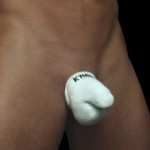 Going K'Mando
Who would have thought that something so small and simple would be the 'fashion' phenomenon of this year?
Yes the world's first truly anatomical underwear engineered for men arrived with few thinking that this 'cock glove puppet' would go down so well with boys and sportsmen in equal degree. The K'mando Strapless Pouch is self-supporting and designed to snugly fit your masculine anatomy perfectly. Its secret is the gentle way it cushions your equipment with a snap-closure and slightly padded soft fabric.
It comes in four colours and can be obtained from www.bent.com or call: 08001385020