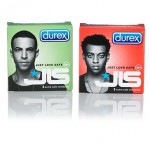 We tried to get an image of the guys wearing them… alas this is the one they sent… still, it's always nice to see this particular boyband.
As young people are beginning to think about summer holidays, JLS and Durex are reminding them to pack condoms along with sun cream and swimwear. Also they will launch what is believed to be the biggest ever survey into the sexual habits of the 16+ population, with the chance to win one of 10 Ipads and several opportunities to meet JLS. To enter go to www.duresxsurvey.co.uk.
They are sold in Boots, Superdrug and Tesco.