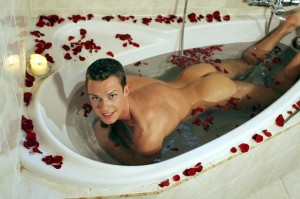 Of all the cities in Germany, Hamburg is my favourite.
Berlin's great for shopping and partying, but if you're looking for a place to live then Hamburg's the place for me; the lovely harbour, the fabulous people and its relaxed and understated atmosphere. Perhaps you have to have been there to really understand what I mean; but there's no doubt in my mind that the best spontaneous sex session I ever had was in the city.
I remember a stay at my favourite hotel there, "East". The rooms are really big, with a huge bath-tub right in the middle – no walls, just a few light transparent curtains. It just so happened this one time that my boyfriend and I had been having some fun in the bathtub when a guy from room-service knocked on the door to serve the meal we'd ordered some time before. That's the one problem with this particular hotel – the room service can take hours! Unfortunately, when ordering the sandwiches, we'd said that the waiter should just enter the room since we planned to go to the hotel's gym for a workout before eating. But having returned from our exercise and now engaging in sport of a very different nature, it wasn't very amusing at all. So it was that the service guy entered the room with his little cart – both my boyfriend and I simply too shocked and embarrassed to tell him to wait outside or to leave! To his credit, however, the attitude of this guy – a cute fellow in his late 20s, though not my type – was distinguished and professional. Just as you'd expect it to be in a five star hotel!
He asked us where he should serve the meal: in front of the TV or next to the bath-tub, in which we were sat with our visibly hard cocks! He prepared and served everything on his little cart without so much as a glance in our direction; before approaching us again and asking for a signature. By this time our cocks were only half-hard, but he still didn't even flinch as he bent forward to hand me his notebook and pen! Then finally, he left saying: "Thank you, Sirs – and have a pleasant evening. If you need anything else then please don't hesitate to call me."
We distinctly heard him start to laugh once he was back in the hallway. Needless to say, my boyfriend was so embarrassed that he started to wear shades on a permanent basis whilst in the hotel!
Anyway, I now travel to Hamburg at least a few times a year – and what can I say – the city never disappoints! Last month I was in town again, but this time (for reasons previously stated) we selected a new hotel – the Empire Riverside Hotel, between the Reeperbahn and St.Pauli Landungsbrücken. It's not so trendy or hip as "East", but boasts some breathtaking views of the River Elbe, the city and its harbour – especially if you ask for a room on the 16th to 20th floors.
After a long day promoting one of our latest STAXUS movie releases, my boyfriend and I returned to the hotel, where we discovered the hotel's very own rooftop bar on the 21st Floor. There we had several Aperol-Spritzz and Cosmopolitans – I know, very gay, but they're so delicious I just can't help loving them! – and enjoyed the breathtaking view of the lights over one of the biggest harbours in the world.
Soon afterwards we returned to our room – just one floor below the bar – with its high, panoramic windows, spread out over two complete sections of wall, which provided us with unrivalled views of the River Elbe. Feeling as horny as we did, we didn't wait a moment to tear at each other's clothes as soon as the door closed behind us. The ambient light from below gave the room a very romantic touch. Not that we wasted much time checking out the panorama – no, it was straight into hard and some of the horniest sex I've ever had. Pressed against a window on the 20th Floor at two in the morning, overlooking Hamburg's waterfront and the streets of St.Pauli beneath us, feeling slightly drunk – whilst all the time fucking your boyfriend, not to mention being fucked by him in return was sensational! Believe me, I've never experienced anything more energetic in my life.
Check out my DVDs and much more on: Homoactive.com and RawFilms.net