From pussycats to a wolves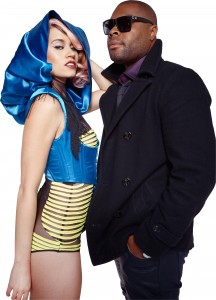 Kimberly Wyatt is a former member of the girl super group, Pussycat Dolls, an experience she described as 'the best Boot Camp for the music industry' she could ever have hoped for. The Dolls made her a star, but she's proving to be just as strong without the band, and has embarked on her own solo career. After taking a spot as a judge on the hit reality dance show 'Got To Dance', she's taking a move back into the music industry with the help of Spencer, a talented producer, songwriter, and MC, who has emerged as one of LA's hottest-tipped producers. Together they form Her Majesty and The Wolves. Ryan Houston reports.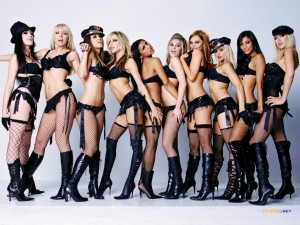 What has life been like for you since leaving Pussycat Dolls?
Kimberly: It's been two years of intense soul searching, challenges and hard work. The transformation has been empowering as well.
How was Her Majesty and The Wolves formed?
Spencer: Kim and I met through a mutual friend when she was working on her solo project. And from there we became fast friends!
You guys have been described as a mix between Swedish House Mafia and Calvin Harris by the British press. If you had to compare yourself to other artists who would it be?
K: Those are two incredible artists to be compared to and we believe we are both inspired by them. We'd say our group is very unique but other comparisons are the Black-eyed Peas. Spencer on the other hands believes that a more urban theme fits the band better. Other artists we would compare ourselves to would be a Jay-z or Kanye West because we believe in our work ethic, and we're very passionate about our music.
Kimberley, do you enjoy working with people who aren't like you; does this give you a chance to improve your performance?
K: You can always learn something from every experience and opportunity whether it's good or bad. I love creative people, they inspire me.
Who inspired your music and you yourself?
S: What inspires me is Daft Punk, Tribe Called Quest, SHM, Calvin Harris, Duran Duran, and Kanye West
K: I'm inspired by female vocalists like Sia, Ladyhawke, Robyn, Florence and the Machine, I feel inspired by DeadMau5, Swedish House Mafia, as well as Tim Burton, Vivienne Westwood, Cirque du Soleil, Busby Berkeley, and Paulo Coelho.
Kimberly you have appeared as a judge on Got To Dance and have worked with volunteers to teach them how to dance as well as so much more, have you missed the music industry? Do you feel you're a singer, a judge, a teacher or a dancer? Where does your heart lie?
K: Teaching and judging is my purpose in life. It's an outlet to share my experiences as a dancer in hopes that I can help them on their own journey. But working with like-minded, positive, creative people that support my crazy visions and creating art with purpose is where my heart lies the most. I don't think I am one thing, I feel that I'm a passionate artist that loves to create the things that live inside my head.
With the release of your hotly tipped single 'Stars in Your Eyes' and the anticipated release of the album '111', what makes Her Majesty and The Wolves different?
S: What makes us different is that we have approached pop music in a very theatrical way. Where the music sets the stage to allow the listener to be part of an experience where our live show will be like going to a play. But the music is more familiar to progressive house. Readers should buy the album 111 because it is a musical journey through mystic lands with raves and wolves and hints of Little Red Riding Hood!!
Why call the album '111'?
K: 111 has become a sign in my life that constantly reassures me of my path, my journey, and where I'm headed. When Spencer and I met to talk about becoming a duo I got in my car behind Spencer's and saw my sign, "111", on his license plate. That's when I knew it was meant to be.
But it's not all about numbers is it..?
K: Spencer and I can geek out over music like nobody I've ever met. He's so incredibly intuitive and has a great ear for incredible cool sounds, which never lets me down…We want to do something innovative and creative in the music industry. The music industry is kind of dying, but we could recreate a new standard and a new way of doing things within it. I've never felt this free and creative
S: The eventual stage production will resemble something like 'a Lady Gaga show in Ibiza'.
Album '111' out 13th June – Chime Entertainment/PIAS
www.hermajestyandthewolves.com