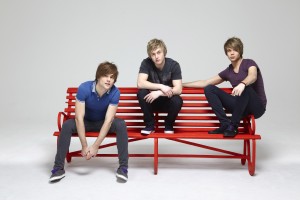 Meet Sam, Jack and Sonny: three lads with sweeping hair, handsome faces and raw musical talent. Together they make up Twenty Twenty. At the moment, they're touring with The Saturdays across the UK. Soon, they'll be storming the UK charts.
A bold statement to make but considering the band have already completed their own sell-out headline tour, played live shows with JLS, McFly and Sugababes, reached No.4 in the UK DVD Chart with their independently-released Get Down With Twenty Twenty DVD and accumulated more than 45,000 fans on Facebook. So there's no doubt Twenty Twenty are about to take on some of the UK's biggest acts.
But how did Twenty Twenty come to be?
"Well, Sam and I are brothers and grew up in Cambridge," Jack begins. The brothers' love for music started early. In fact, they were picking up their first instruments (Sam on the drums and Jack a trumpet) before they even hit puberty. Then Jack got given a guitar from his grandmother and their passion spiralled from there.
"We used to jam together, didn't we?" Jack grins, his cheeky smile shining, he clearly enjoys reminiscing with his big brother. "I used to rock out in our attic with my guitar, I'd hear the ladder and it'd be Sam scurrying up to join me."
Until 2008, the jamming was all done during the boys' spare time. Over in Essex, Sonny was playing in various punk bands with friends and was mastering his guitar, as well as his drum skills. But a year into his University course, Sam decided he should take time out and form a band. He called on his brother Jack and their good friend – who is now a TT Band manager – to help out. It didn't take long for them to be introduced to Sonny and his drums, who came along to play on a few demos. Calling themselves Twenty Twenty after chatting about band names in a local pub at 8.20pm (20.20), Jack says of the Sonny: "We liked him. And he wanted to be in our band – he said we were really cool."
"I decided to stay in the band, obviously. They really wanted me to," counters Sonny, before all three boys fall start giggling again. The natural bond between them is evident and there's no doubt they're enjoying life together as Twenty Twenty.
"We've already done so much at a low level- we've released our own singles," smiles Sam, the lead singer and self-proclaimed "big worrier" of the group. "It's nerve-wracking but we can't wait to get releasing again. A new song out in April and a mini-album out soon after too – how amazing is that?"
The band will unleash their first official single, Love To Life on 17th April. It's a bouncy ballad (yes, it's possible) and a perfect taster as to what we can expect from the up coming min-album and album.