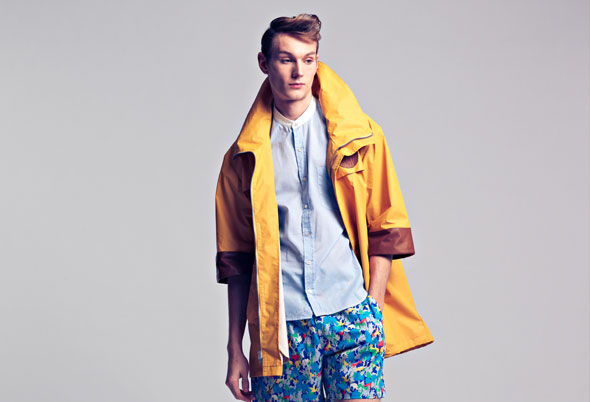 A short spring into summer
An exercise in color theory and the art of design, the Manhattan based Mjölk Spring/Summer 2011 collection draws from the mechanics and history of visual art, focusing on relationships between colours and shapes, and the affect these manipulations have on the viewer. Bold primary colours give way to subtle secondary and tertiary shades of green, burgundy, soft brown, and warm grey, allowing magnanimously disjointed looks to come together in chromatic harmony when the collection is viewed as a whole. Carefully calculated combinations and distributions of hues, patterns, and textures pay homage to aesthetics and the visual sense, creating a spirit of subtle affability, visual coherence, and focused artistry throughout the line.
---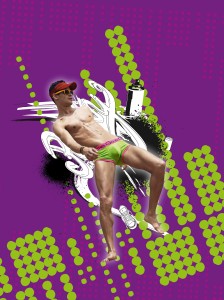 Neon hugs
Neon brights from HOM's SS11 range of designer men's underwear. This Brooklyn Low Waist Maxi is available in lime green with pink trim or vivid violet with neon green. Each boxer brief hugs the body in fantastically soft cotton rich fabric
£19.99
---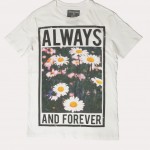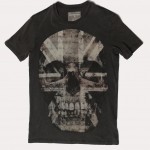 The new t-shirts range from sinstar
£25
---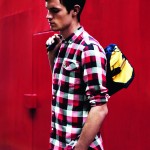 The Spring '11 Lyle & Scott Vintage collection illustrates a brand that successfully combines catwalk trends and contemporary street subculture, whilst retaining the heritage that has made the brand what it is today. Inspiration is taken from the 80's Italian Paninaro movement and the Vintage fit as always is slim and sharp. The feel is super-confident and the colour palette strong and bold.
Vintage check shirt, £75
Vintage chinos, £80
Vintage kit bag, £60
---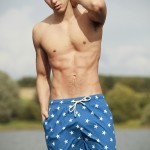 Equally as cool and distinctive as the underwear line, Oiler & Boiler swimwear combines artistic and original hand drawn prints with simple but stylish plain colourways.
Heavily inspired by the preppy, classic look of the Hamptons, Oiler & Boiler captures the essence of Long Island style, providing stylish swimwear with a fantastically refreshing, affordable price tag.
With prices starting at £30, the collection is available in a fantastic range of stockists including Selfridges, Fenwicks, and Topman.