Mini Gay Boyfriend – a new game for the iPhone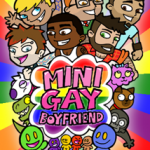 The first gay themed game to appear on the iPhone is available to download from the App Store now.  Mini Gay Boyfriend has caught the attention of the world, selling in 22 countries in just two weeks.  From Singapore to Panama, it seems gamers – gay, straight or just mini-curious –can't get enough of Mini Gay Boyfriend.
The game, which features nine separate challenges, starts by rewarding players for well-timed winks, precision hugs and perfectly placed kisses. But squeeze too tight, or give the wrong signals and things won't last.
Mini Gay Boyfriend is available to download now for the iPhone and iPad (iOS 3.2 and above) from the App Store at a cost of just 59p.