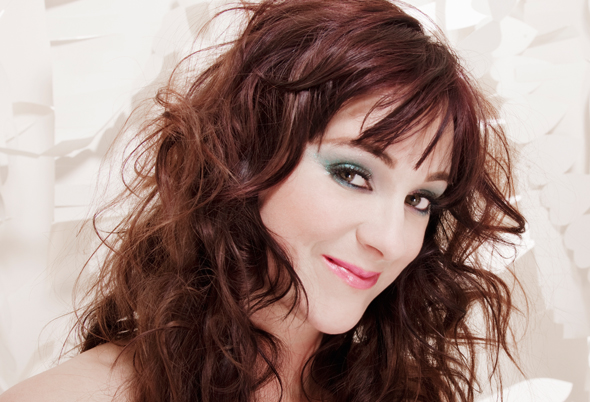 Hertfordshire-born pop chanteuse Scarlette Fever unleashes her new single 'Crash & Burn' to the new legion of fans she gained when she performed at many of the Gay Pride events in 2010.
I love doing Pride events there's always an amazing carnival atmosphere, outrageous outfits and extreme partying all of which are right up my street. I'm very proud that I appeal to such fabulous people.
You're not a disco diva (or perhaps you secretly are) so where do you think your appeal lies?
I've always tried to write music that I would love to listen to which is why my album 'Medication Time' is so eclectic. It really reflects all the different sides to my personality. If you check out my website yes, you will even find a disco room page.
The single Crash and Burn is terrific pop music with a touch of driving pathos (if that isn't a contradiction in terms)… there's a touch of it being a classic… bit like Snow Patrol's Chasing Cars… would you like that accolade?
Of course, that would be amazing! I think that everybody likes praise and obviously a comparison to Snow Patrol is incredible.
The pop charts seem to be full of female singers at the moment… are there too many?
Not yet, I think that there's room for one more….!
Who do you like to listen to?
I love so many different styles of music and artists… it just depends on what mood I'm in. I watched Cadillac Records recently, which was amazing, so I have that soundtrack on loop right now.
How do you relax?
I couldn't live without my bathtub. Roasting hot baths with a book, candles and of course music is how unwind. (I'm such a girl).
Shows like X Factor and Britain's Got Talent are always trying to find the weird or quirky singer… does that annoy you at all?
To quote Mr Mugatu, "That Simon Cowell is so hot right now". He is like a force of nature. Yes, freezing your arse off in the rain isn't fun but what can you do about it?
How did you manage to change careers from being a marine biologist to being in the music business?
I didn't actually make it as far as becoming a marine biologist. All through school, that was my plan but I also lived to sing so after my A-Levels I thought that I'd take a gap year to try and get some where in music and here I am years later!
What's your secret indulgence?
That's a naughty question, if I tell you than it won't be a secret anymore….
What do you hope for 2011?
That's a tough question… according to the Mayan calendar the world is due to end in 2012 so I guess that 2011 needs to be pretty damn incredible.
'CRASH & BURN' Out: 24th January on Starfisch Records
www.scarlettefever.co.uk