Johan's Blog: By Invitation Only
I had just one week to wash and iron all my shirts and jeans after my recent holiday, and to be honest it wasn't nearly enough time to become acclimatised to normal life again! However, I had to travel over to Amsterdam almost immediately to start promoting my new movie "Invitation Only", which had just been released.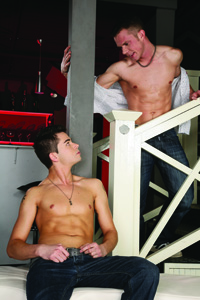 My holiday in Thailand was simply fantastic – 3 whole weeks of pure relaxation, with plenty of sun, time on the beach, sports, culture, spicy food and great clubs! I love Thailand so much – indeed, it's my preferred holiday destination after Cape Town. That said, Thailand is much cheaper than South Africa – I mean, where else in the world could you get such great food for less than 50 cents for a whole meal? And an hour's massage for less than 5 Euros (Professional massages, I mean – the others I still get for free!)
Unfortunately, my three weeks in Thailand passed by far too quickly, and before I realised it I was already sitting on the plane back from Bangkok to Prague. In no time at all it was a case of going from sunshine and 35 degrees to heavy rain and 14 degrees. In short, a complete nightmare!
Well, now I'm back in Amsterdam and am starting to promote my new DVD, which is the second release of my very own studio and about which I am very proud! Here I'm a producer, director, editor, actor – and sometimes even the camera guy! – all in one person. As a result, I can select my own models, locations and what goes on in front of the camera, all myself. My first DVD was sold out in just a few months, and there's every expectation that this second title – "Invitation Only" – will be met with a similar response.
Once again, the movie features lots of scenes with me and all my horny fuck buddies from the Czech Republic, although this time I've also invited some actors from abroad to have hard, dirty sex with. One of these guys is the fabulous American model, Turk Mason, who features on the cover of the DVD. My scene with him was very special since Turk is a really great fuck – the perfect bottom even – and the experience was as horny as hell. Even though the guy is not 100% boyfriend material (in my opinion), he still has a perfect ass and knows exactly how to move when being fucked. Believe me, you'll definitely know what I mean when you see the scene. Gees, I enjoyed it so, so much …
I haven't just promoted my DVD whilst over in Amsterdam, however – although we have had a boat trip along the city's canals, during which I gave interviews to the press (in the rain – very Dutch!!) No, I've also managed to negotiate a very special present for you, to celebrate that I've been writing this blog in BENT magazine now for almost a year: a 10% reduction on your next purchase at www.Homoactive.com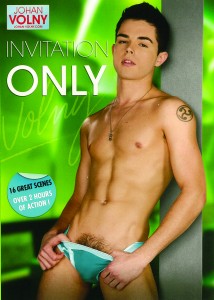 Homoactive is the biggest gay DVD and gay lifestyle online store in Europe, selling DVDs, toys, lube, underwear and downloads. What's more, there's free delivery for all orders worldwide! To claim this month's 10% discount on everything, just enter the code: bent when you check out . The offer's open until 1st December, and you can use it as many times as you want. And don't forget, it's also valid for my new DVD, Invitation Only, so remember to add that to your basket as well.
I hope you'll have lots of fun with my little present for you, and that you'll enjoy watching my new DVD as much as I loved producing it.
See you on my site www.Johan-Volny.com and next month here at Bent.
Kiss
Johan