Drag Idol – The Interview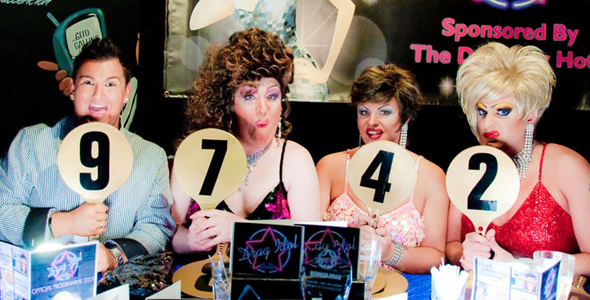 Since the very first Drag Idol back in 2004 many folk have frocked up and taken on the challenge to win the coveted title. Bent took time out to chat to the two people who will be at the helm of this year's fantastic competition – Event Organiser Daniel Cher Bailey & Hostess Miss Orry"
So how are you both doing?
DCB: Great thanks as I'm stuffing my face with a large bowl of Popcorn Chicken!
Miss Orry: Yes & he hasn't even offered me any, the Fat Bastard!
DCB: I'm not fat anymore as I'm now thin & gorgeous.
Miss Orry: Yeah, I'll give Danny his due, he does look amazing after all that weight loss & can you believe it was just constipation? All he needed was a bowel movement to loose all that weight, but then again I always thought he was full of Sh**!
So DRAG IDOL is back, are you both excited & what can we expect?
Miss Orry: Not really.
DCB: She's lying. We can't wait as it's going to be the biggest & most ambitious one to date & we are changing things around – allowing live singing this year, so that should be interesting.
Miss Orry: And you can play an instrument if you want to.
DCB: A bloody instrument?
Miss Orry: Yeah, someone may want to play the ukulele… well I'd be impressed!
Who are the judges this year?
DCB: Well, we have a great team including Chelsea from Queens Court, Lana who is a M.A.C trained makeup artist & has worked with Miss Orry at Funny Girls & we have the gorgeous Kira who is a professional singer.
Miss Orry: And of course Danny is the head judge as always & I will be hosting the evening this year with the help of the fabulous, but not as funny as me, DJ Degsie.
Any Guests lined up?
DCB: Oh yes we have an exclusive performance from Miss Orry & The Viaduct Drag Divas, Cheryl Whole & a live set from Angie Brown as well as all the contestants.
Miss Orry: So it's going to be a packed night with lots of costume changes for me.
And this is all for charity?
DCB: Well, this year we are raising money for Yorkshire MESMAC.
Miss Orry: It's a great event to raise money for a great cause and so far we have raised over £17 grand for local Charity's through Drag Idols history
Anything else we should know?
Miss Orry: Yeah, me and Danny are single but looking!
DCB: Just save the date Tuesday 9th November at The Royal Armouries in Leeds
Miss Orry: And you can get all info about buying tickets & how to enter via our website page.