CD – Barbra Streisand –> Too Late!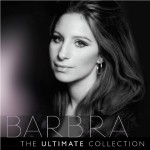 "Barbra – The Ultimate Collection"
Following powerful sales of Barbra Streisand's most recent album, "Love Is The Answer," a number one hit in both the U.S. and the United Kingdom and with high rankings in virtually all other countries, Sony will release "Barbra – The Ultimate Collection" for international release October 25.  The new CD will comprise 18 of the artist's greatest recordings. The selections are drawn from hits that over half a century have become classics transcending all borders. Included in the "Ultimate" track list are: Woman In Love, Evergreen, The Way We Were, You Don't Bring Me Flowers, Guilty, No More Tears (Enough Is Enough,) Don't Rain On My Parade, Memory, Papa, Can you Hear Me?, As If We Never Said Goodbye, Tell Him, Stranger In A Strange Land, I've Dreamed Of You, Send In The Clowns, People, Smile, In The Wee Small Hours Of The Morning  and Somewhere.
Out: 25th October – Sony Records
To be in with a chance of winning this fantastic collection, just answer this simple question:
Barbra dueted with whom on No More Tears (Enough is Enough)?