Sam Clark – not a Neighbour from hell!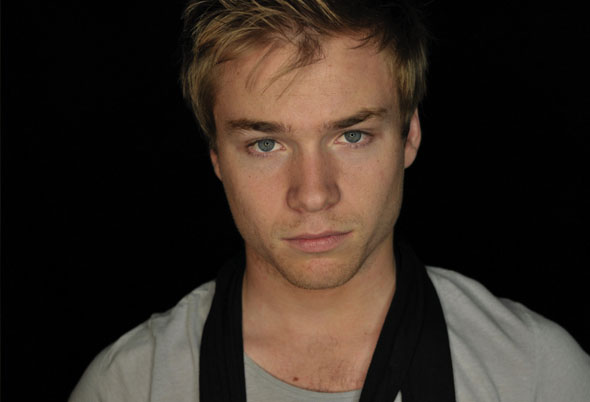 For those of us who are still hooked on Aussie soap Neighbours on FIVE, there has been a delicious piece of eye-candy called Sam Clark, aka, Ringo Brown who, for the last four years, has kept us all glued to the storylines. Now, as the 6000th episode of this iconic show makes it to our screen, the blond star leaves the comfort of Ramsey Street and becomes a civilian again. Les Lea caught up with him as he arrived in London at the launch of his UK tour but first he asked him how he got the part in Neighbours.
Originally we had to send off a self-taped audition from a script in a magazine… I was lucky to be pulled out of 7,000 people. There were 4 different auditions where the numbers got cut down. Eventually, it were cut down to 12 from each state and we had to do an audition at our local shopping centre in front of the crowds that gathered and a member from Neighbours' casting . Finally we went to Melbourne and auditioned on the set with the cast and two days after… I was given the role of Ringo.
Are you anything like your character?
I don't believe that I am. Ringo is focused on footie and not the brightest of kids but I'm more focused on music and was quite focused at school and did well there. So quite different in that sense… and I hope I don't make as many mistakes with girls as he did when he started… but that might be just thinking a bit too highly of myself (chuckles).
The 22 year-old, Adelaide born actor has already had musical success in his own country when his debut single 'Broken' hit the top of the Aussie charts. His latest single 'Devastated' followed to the top spot and now Sam is desperate to repeat that success here.
I've played music most of my life. To a degree I'm self taught. I was shown a few basic chords but mainly I just picked out the tune on the guitar and learned that way.
Despite not coming from a musical family, he's the only one of the Clarks who enjoys singing and acting, he's been performing since he was ten years old.
When I had my first performance in front of an audience… the feeling I got from that, coupled with the feeling of release I got from writing music, I just wanted to focus most of my energies doing that as much as I could while at school. So, I got stuck in and can't believe that I'm making it my career.
Can you remember the first song your wrote?
I think it was something about not fitting in at school… but (he laughs) it's not in the set I play now.
I've just seen the video for your single and I like it… and it has to be said… you make a very good-looking weather-girl.
(Laughs) It's been a weird response but for us it was a whole lotta fun to muck around… though some people think I look better as a woman now.
Is this an area you're going to pursue?
I'll take what you say as a compliment but I'll probably leave it there for now. (chuckles)
You're here to do a bit of charity work on behalf of the NHS promoting blood donations (an area of discussion that doesn't sit very well with quite a few members of the gay community). However, you are doing over 100 schools spreading your message and your music but while you are here will you be making time to perform for many of your gay fans?
I'm trying to fit in it in. I'm trying to leave a few dates in the schedule where I can play to an older age audience. I would love to do that.
What is your guilty pleasure?
Buying gadgets. I like Apple stuff. I don't have an iPad yet but I'm sure I will.
Last question… what is your favourite style of underwear?
Boxer briefs… the tight fitting cotton/lycra CK type of trunks but now I'm an unemployed actor and singer I suppose I'll have to go back to something cheaper.
Single 'Devastated' out: 10th October
For more information visit:
www.youtube.com/user/samjclarkmusic
www.samclarkmusic.com
www.twitter.com/samclarkmusic
www.facebook.com/samclarkmusic
www.myspace.com/samclarkmusic