Key West Resort – Torquay By Lee Hudson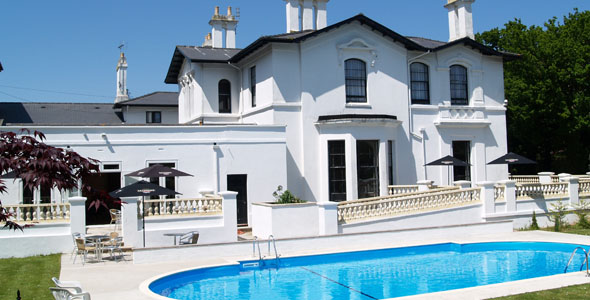 I was leisurely flitting around the websites looking for a gay hotel here in the UK when I came across the Key West Resort in Torquay. I didn't know we had a gay resort anywhere in the British Isles so I quickly booked myself in and went to see what was on offer.
I'd never been to this part of the south coast before so wasn't quite sure what to expect. I drove around the other places that are listed as all part of the 'English Riviera' but in truth was disappointed with Paignton, Babbacombe and Brixham, which all fell short of any kind of 'Riviera' experience, only Torquay seemed to have something exciting going for it. This large seaside town was busy with plenty of attractions and at its centre a terrific harbour area just right for some sailing… or cruising.
My sat-nav guided me effortlessly to the door of the Key West Resort and a very impressive first impression the place makes. This imposing white former villa and hotel with its gay rainbow, bears and leathermen flags flapping in the breeze… I thought made a great welcome to such an exclusively gay resort. Peter Gordon and Brendan Kennedy are the owners and managers of the development, which, thanks to their hard work and vision, offers an array of facilities in one beautiful location for us gay guys who like to be in the company of others. Key West is still a work in progress as Peter and Brendan continue to add new rooms, features and extra facilities for their client's enjoyment but that doesn't detract from what is already on offer.
The staff offered a friendly greeting as I approached what might be seen as the centre point to the place. The large Key West Bar has locals as well as residents popping in for a drink, while the impressive lounge area doubles as the breakfast room in a morning. There are also two terraces where you can sit out, one of which also leads to the outside swimming pool and gardens (a hot tub is soon to be included for even more outdoors fun). During the summer months 'clothes optional' is OK in this area but not obligatory, however, a relaxed and informal attitude is everywhere. Freshly made meals and snacks are available at the bar through until the evening with happy hour between 6-7pm each day.
Meanwhile, the resort holds yet another wonderful amenity; Tom's Cruise Bar is downstairs and offers a more intimate atmosphere and dance floor to use up some energy after a lazy day.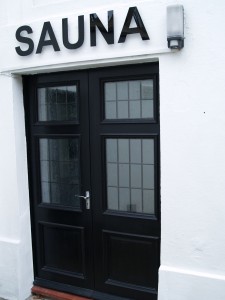 While staying at the Key West Resort – entry to the cutely named Daddyhole Health Club is free. Daddyhole isn't a kinky name for the sauna but the area of Torquay where the complex is situated. With a great deal of foresight by the owners the sauna is open to non-residents who have their own entrance from the main street. Once inside there is a steam room, sauna, spa, mini gym, DVD lounge, sun lounge, rest rooms and smoking area. The outdoor pool is also available for those who like to take a cooling and reviving dip before launching themselves back into the fray. The sauna also hosts occasional special events such as Sauna Pride, Bears in the Bay and Sauna Fest 2 (check out info on web site) and can be hired exclusively, as can the entire hotel, by groups who wish to have such a well equipped resort for their own private use.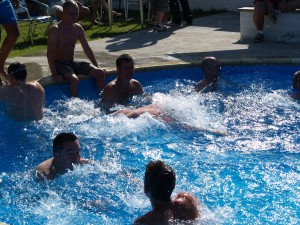 There's a special Christmas rate for those who want to get away for that 'alternative' festive celebration.
Accommodation
Standard en-suite bedrooms all have digital televisions and tea and coffee making facilities. The en-suites all have showers. There are single, double, twin and three man rooms.
Room rates include full English breakfast.
Self Catering Apartments
All the apartments have digital televisions, are fully equipped with a fridge, microwave, kettle, toaster etc and either full sized cooker or hob. 
There are one bed roomed apartments with a lounge, kitchen and shower room, which sleeps up to four, with a King size bed and Bed Settee in lounge. The apartments are provided with towels and bedding but are not serviced. However, on this plan, self catering does not include breakfast but does include a welcome pack.
Remember, you don't have to be staying at the resort to enjoy the facilities. So, go make new friends and wile away the hours in the company of likeminded men.
Key West is so much more than just a gay hotel or guesthouse. It's a complete gay resort for men.
Key West Resort, Meadfoot Sea Road, Torquay. TQ1 2LQ. Tel: 01803 200063
Web: www.keywesttorquay.co.uk /  Email: stay@keywesttorquay.co.uk
Meadfoot Inn
Tradition bar with an edge of camp (OK a lot of camp)
www.meadfoot-inn.co.uk
Candyfloss (formally Rockys)
Three floors of Gay Clubbing
www.candyfloss-club-torquay.co.uk
Steamer Quay Spa & Bar
Devon's largest Sauna offering both men only and mixed sessions.
www.steamerquay.com
Steps Bistro
Gay owned and run restaurant with superb food and great service at terrific value.
www.stepsbistro.co.uk
Torbay Pride is in June