Is there a bit of Frixion in your life?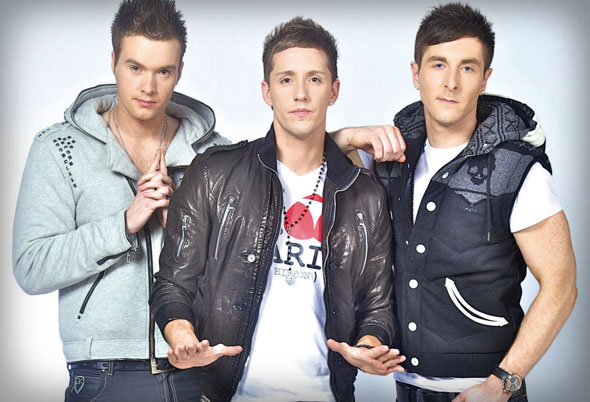 Bent continues its look at the current crop of boybands with the latest male RnB group with flair, style and last but not least, talent – Frixion
After their amazing performance on tour with N-Dubz, their pages on MySpace and Facebook rocketed to over 80,000 friends and now Frixion, the new boys on the block, are in great demand. Their debut single 'Afraid' has just been released and received rave reviews amongst industry professionals. So, the lads from the Midlands are set to conquer the hearts and minds of a population hungry for a new credible boy band to grace the UK music scene.
How did you guys get together?
Neil: Me and Dave formed the group back in college. Then we held a few auditions through The Stage newspaper and found Johnny.
Johnny: They've been stuck with me ever since! Lol
Why go the R'n'B route rather than the more poppy one?
Dave: We wanted to be true to ourselves. We could have easily pushed out a pop album to sell units, but that wouldn't be us.
Johnny: We all love pop music, but R'n'B is where our roots lie.
Neil: We think it's essential to be able to play your own music back and enjoy it.
Tell us about the new single Afraid… and what can we expect from any future album?
Johnny: It's basically about liking someone but their partner is treating them bad. It's telling them not to be 'Afraid' of leaving them and getting with us.
Dave: We feel a lot of people can relate to that!
Neil: As for the album, it's pretty much just gonna be full of R'n'B tunes with catchy melodies! We've recorded around 3 albums worth of material so only the best of the best will make the final release!
Johnny: It'll be kinda 'all killer, no filler' album!
OK. So the lads are out there letting their music speak for itself but as is Bent's bent, we need a little more gayformation.
How do you feel about doing gay Prides?
Neil: We have so much fun doing Pride events! The crowd are always really responsive and up for a laugh!
Johnny: We've done loads of Gay Pride shows now and the response has always been amazing!
Are any members of the band gay (or just very happy)?
Dave: We're all EXTREMLY happy! Haha
Johnny: We're very comfortable with our sexuality. We get a lot of attention when we do gay venues and it's very flattering! We don't understand the kinda guys who are scared to go to gay clubs because they think every guy will hit on them. It's just narrow-minded… and big-headed!
What gay celebs have you bumped into as you travel around?
Dave: We met Louis Spence (Pineapple Dance Studio) last week at a gig. He was filming for his new TV show, he's so funny!
Johnny: I met Gok Won once on a night out in London. He was such a down to earth guy and we had a laugh! He didn't say anything bad about my dress sense either, which I suppose is a bonus! Lol
Neil: You should have asked him for some fashion advice. Lol
What's the gayest thing you've ever done?
Neil: We always tend to have 'gay-offs' or 'gay-chicken' as it's better known! We just joke about.
Johnny: Once we were doing a show in Minehead and as we were getting changed backstage we decided to do some last minute push-ups. Because we didn't want to ruin our clothes we just did them in our underwear. The sound guy just walked in and walked straight back out!
What is your ultimate Guilty Pleasure?
Johnny: GLEE!! I'm addicted to it!
Neil: The Saturdays, especially Mollie!
Dave: Bananas dipped in chocolate… (?)…if you haven't tried it, you should! It's heaven!
And the most important question of all… what are your favourite undies?
Dave: My lucky Superman boxers! I'm proud to own up to that!
Neil: Calvin Klein
Johnny: Emporio Armani is my favourite, but going commando also works for me.
Frixion is touring the UK extensively during the summer, with over 50 dates confirmed, including support slots with USA star Mario and UK heavyweights N-Dubz, Mr Hudson, Chipmunk, Tinie Tempah, McFly, Alesha Dixon and Tinchy Stryder. The boys have teamed up with another explosive UK band – FDM (formerly Fun*dmental) who are signed to Universal Geffen USA, hit-maker Ne Yo's label. The FDM collaboration, has given additional hype to an already explosive debut single by the Frixion boys!
Single – 'Afraid' out now.
www.myspace.com/frixionstyle | www.frixionmusic.com