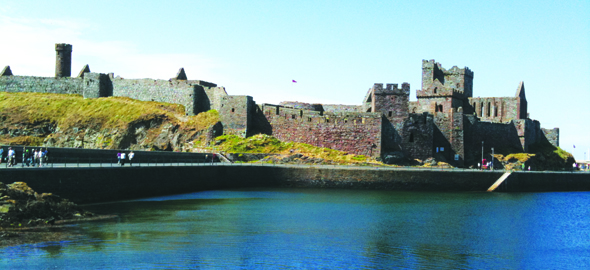 In this time of recession we are all looking for a delightful seaside haven, perhaps with a bit of a disco break but we don't want to pay the earth. Simon Savidge packed his bags for a trip to the Isle of Man to find out if an island, less than an hour away by plane, could be the answer to our travel troubles?
Once the Isle of Man was THE place to visit if you wanted the perfect beach holiday. OK, so we are talking in the Victorian era and once arriving on this small island in the middle of the Irish Sea you can instantly see why. As you descend from the flight a stunning view of sandy beaches stretches out ahead and you find yourself craning your neck to work out how the hell you can get to them as soon as you leave the airport. However, there is much more to do in the Isle of Man than just lounge on a beach – though if you wanted to only do that there are plenty of perfect, empty sandy places to enjoy.
History seeps out of every street in the Isle of Man, in fact, if you didn't see the odd bus and supermarket every now and again you could be forgiven for thinking that modern life stopped in the 1920s. If castles are your kind of thing then you have plenty of choice; from the Medieval Castletown, the ruins of Peel (which look like they could belong in a Famous Five adventure) to the Grove in Ramsey – a perfect example of a Victorian Mansion.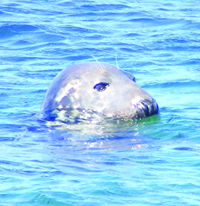 If you're looking to get back to nature then you have to visit The Calf of Man, a little island that has become a bit of a wildlife haven. There are many boat tours; we not only got to see seals but also some whales leaping from the sea only a few miles off-shore, which was amazing. Here's a tip; take lunch at the wonderful National Trust Café – the food is superb. There is the option of diving with basking sharks – an experience that you can't put into words, quad biking, horse riding, rock/cliff climbing, cave diving – basically there's lots to do.
Many people will hire a car to get around the island abut I would recommend not doing so as part of the charm of the Isle of Man is the way that you can get around. In the south it's via steam train and in the north it's by electric railway and both are brilliant and you have to give them a try. The views and different landscapes you get to see are wonderful but I suggest that you don't do it by bus on Sundays as the public transport is rather sporadic, but doing a tour any other day should be fine.
Now there isn't a massive nightlife for the gay guy in the Isle of Man, though there are monthly events put on by the IoM LGBT (www.gayinfo.org.im). There are lots of 'olde worlde' pubs which you can happily spend a good few hours in. Don't forget the wonderful and aptly named Gaiety Theatre in Douglas home to many of the West End touring shows (we watched Joseph). (www.gov.im/villagaiety). I would strongly advise you go on one of the many island Ghost Tours (www.iomghosttours.com) you will scream and laugh for a whole two hours. You could also spend a nice evening wandering the promenades with some takeaway fish and chips – yum. I might add that it's best to ask the locals for the best places to eat or visit because, not only are they very friendly, they are also very knowledgeable.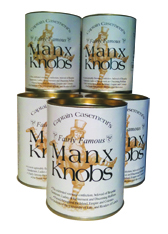 If anyone had said that you could get sunburn on the Isle of Man I probably would have laughed at the thought. I might even have agreed with anyone who implied there would have been nothing to do. Yet the four days of my visit simply wasn't long enough and I returned home looking rather like one of the lobsters I had spent the previous night eating. The Isle of Man is a place that has a very chequered history… especially with reference to gays but all I found was unjudgemental people, relaxed and enjoying a part of the UK that visitors have almost forgotten but that is ready for a resurgence in tourism. It is perfect for a break if you just want to get away from it all or if you fancy an idyllic romantic retreat. The cans of Manx Knobs on the shelves is not a dire warning but a sweet confection… not unlike the Isle of Man itself. Suck it and see!
For much more information on the Isle of Man go to www.visitisleofman.com Simon stayed at the really wonderful Breagle Glen B&B in Port Erin www.isleofmanaccomodation.com and The Regency Hotel in Douglas www.regency.im and flew with Aer Arann www.aerarann.com