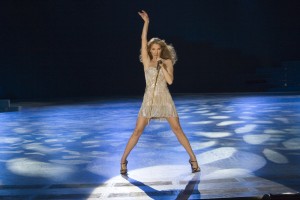 Having sold more than 200 million albums around the world, CelineDion is one of the most immediately recognized, widely respectedandsuccessful performers in pop music history. During her spectacularcareer Celine has been honored with over 1000 awards
Taking Chances World Tour: The Concert, a CD/DVD of live performances from Celine's record-breaking world tour and Celine: Through the Eyes of the World, a home edition of the acclaimed feature film, newly expanded for its DVD and Blu-ray Disc release, will be released on 10th May.
Produced during the Canadian superstar's 2008-2009 Taking Chances World Tour (the second highest-grossing ever for a solo artist), the DVD opens a window into the real life, both on-stage and off, of the best-selling female recording artist of all time.
Director Stéphane Laporte and team enjoyed unprecedented access to the decade's top performer as she played concerts in five continents, 25 countries and 93 cities, selling more than three million tickets during her first major tour in nine years.
"This was an amazing world tour, but there's a lot more than just concert footage on this film," said Celine.  "I let the cameras follow me everywhere. There are a lot of ups and downs, and it's very personal…. It's definitely the most intimate journey that I've ever shared with my fans."
Clocking in at three hours, the home version of Celine: Through the Eyes of the World includes an additional hour's worth of footage not seen in the film's limited theatrical run in February 2010.