Snow drops and exposed bottoms.
I really like saunas. The combination of a hot steam-bath and a Jacuzzi – why, it's just about perfect
One of my favourite places is a (gay) hotel in Berlin. It's one of the best and most relaxed stays that I know, and always provides me with very horny and sexy experiences. They have an outdoor Jacuzzi on the top floor, which is directly connected to their (indoor) steam-bath and dry sauna; and all these areas are open to hotel guests until 2.00am each night
You can probably guess that I always use these facilities quite a lot when I stay at this particular hotel – and no less so during this past winter. After all, can you imagine what it's like to sit in a hot Jacuzzi with a cute twink at your side, whilst the snow is falling directly onto you from above and enjoying the brilliant skyline of Berlin at night …
I remember my last stay at the hotel back in February. Every night I had a nice drink and snack in their posh urban bar, before spending a couple of hours in their fitness area. I then started off playing a bit with my friend in the Jacuzzi, drinking the complementary bottle of champagne that the hotel had given us… and having a bit of a wank ( complements of me!). Then we'd go up to the steam-bath to have a bit more fun. It was so romantic and totally stunning, as we kissed and touched each other in the soothing waters whilst drinking champagne, as a terrible snowstorm raged down on us!
Needless to say, we didn't actually finish our business there. Instead we went to our lovely hotel room, where we could do the sort of things that are not exactly recommended to do in public. That said, I'm quite sure the general public have already seen me doing pretty much all these things given what I get up to on DVD! But a little privacy does have its advantages – and those big, cosy beds are the best place to keep it!
The strangest thing about this hotel is… some of the guests. When they first see me you can notice that they're confused and wondering to themselves if it's really me or not. Okay, when I'm naked in the Jacuzzi or in the steam-bath then they pretty much know right away, but at the breakfast buffet they need some time to make a judgement before asking me for an autograph. I guess I have to accept that I'm better known for being naked and engaging in explicit action. As such, wearing jeans and a tee-shirt can be rather irritating for me!
In the meantime… and so my readers know where to go in Berlin… Thanks to Christoph M and Christoph E @ Axel for always giving me a little extra and for your friendly smiles during my stays at your hotel. I love your place so much! Indeed, it's one of my favourite hotels in the whole of Europe!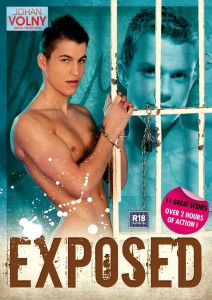 Sadly, I won't have much time over the next few months to visit any saunas since my new DVD, "Exposed", is scheduled to be released in early April. The film is very special to me since it marks the first release of my brand new studio, "Johan-Volny.com", and is the first DVD that I've produced and directed myself. In addition, I acted as cameraman and starred in some of the scenes, which means that it's a 100%, unadulterated Johan Volny production! Little wonder, then, that I have to promote it every which way I can.
For this first DVD, I have brought together my best friends from my home-town, Jimmy Call and Robin Few, together with some of my old (porn) mates such as Dominik Trojan and Alex Stevens. As a special bonus, I also want to introduce Chad Ward and Patrick, two buddies from school, who celebrate their porn debuts in "Exposed".
"Exposed" clearly proves that we have known each other for many years,with the sex between the us filled with the sort of animal magnetism you'd expect from good pals. A good example is the scene between Jme and Jimmy Call, in which I actually bottom for him – a very rare moment indeed given that I'm almost always a top. In short, the whole DVD is filled to the brim with the horniest gay sex that I can provide with the best and most popular Czech porn stars – two full hours of solos, duos and great group action!
I really hope that I shall be able to schedule some days in the UK soon, as I know that I have a lot of very loyal fans there and it would be great to meet a few of you. Maybe I can combine it with a trip to Leeds to meet the Bent crew.
Johan's new DVD "Exposed" is available for streaming on www.Homoactive.TV and on his own site www.Johan-Volny.com where you can find more horny exclusive photos and scenes.
You can buy the DVD "Exposed" on www.Homoactive.com from early April.
Kiss
Johan