Johan's Blog – An American named Turk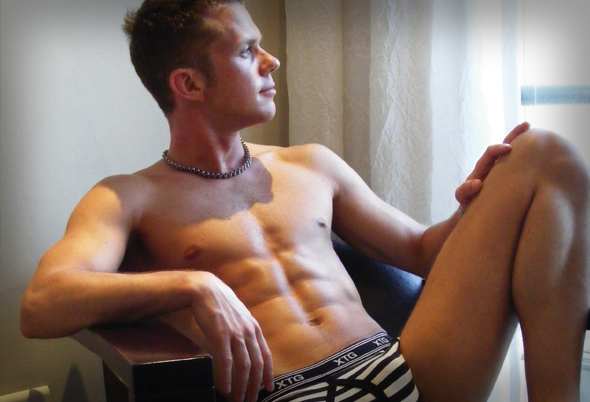 The last few weeks have been really busy for me. I've been on an extended business trip to Berlin; I've performed in a porn movie, I've made several videos for my own site, I've performed at some of our STAXUS live shows – and, at last, I've bought a car!
Yes, I've finally bought a new car: a Mazda. Okay, okay, I agree – a Mazda is not exactly the first car that comes to mind when you think of a horny porn star like me. But a Mazda is roadworthy, has plenty of space and is reliable. Even more important still, it was very cheap – thanks to a special offer that's been running.
Needless to report, I've already tried all the seats in different positions and have concluded that sex in my new Mazda is much more comfortable and relaxed than in my old car. Maybe I'm just getting old? Let's hope not!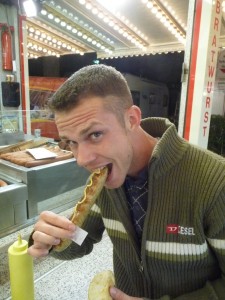 Anyway, recently I've been on the set of "Graduation Gangbang 3" – the latest instalment of our famous (and very popular) franchise – where I shot a nice scene with Belgian model, Philippe Delvaux, and a Californian guy by the name of Turk Mason. As it happened it was actually Turk's first visit to Europe, but unfortunately the poor guy had to spend his only week either here in Prague and Most – a city on the Czech-German border. As a result, I'm sure he now thinks that everyone in Europe lives solely on a diet of Goulash and potatoes, washed down by litres of beer.
During his stay, I took him on a whistle-stop tour of Prague, during which he seemed to stop in front of almost every building that was more than 20 years old to take photos – which, of course, is literally every building in the centre of the city! Obviously, there's a big lack of old buildings in California
Back to the filming, and the first scene I had with Turk was extremely horny, so I decided to do some more action with him for my site. I picked him up from Prague airport and we drove to his hotel. He was already very horny by this point and seemed to have problems waiting just a few more hours before we could start filming together. But what I can say? He turned out to be a fabulous bottom, and having spent 26 hours on planes and waiting at airports I guess he just needed a good fuck. You'll be able to see all the action very soon on my site, but in the meantime I can tell you that the guy was so horny that he wanted to do a solo scene pretty much the moment we'd finished our duo. Wow, what energy! Of course, I didn't decline his request, but instead started filming immediately, whereupon he promptly produced another full load! Gees, it must be all this healthy food that these California boys eat!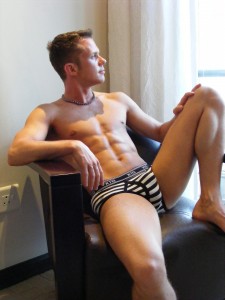 I like to have sex with lots of different guys. Americans are totally different to our Czech twinks, whilst British guys are different to the guys from mainland Europe, so I like to fuck men from various nations to try to find out their various "specialities". Here's a thought, maybe we should all try to fuck with a different nationality once a week to brighten up our sex lives
The STAXUS-On-Tour shows continue almost every weekend, visiting some of the biggest European cities with our raunchy, filthy shows. Actually, something rather funny happened the other weekend in Munich. On this particular occasion we did our show, as per usual, plus a little "extra" that we sometimes put on (some oral action, culminating in a few cum-shots whilst standing on the bar), when the police entered the premises to conduct a routine inspection!
You can imagine the faces of the two policemen! Moments later and there was a real big rumpus and lots of negotiations taking place in the back-office of the club – at which point I was called in to join the discussions. As it happens, it actually took a little while before I really understood what all the fuss was about. Basically, the police weren't complaining about the nature of our hardcore show, but about the cum-shots going over the glasses on the bar, which is strictly against all German hygienic laws since the bar staff should have had the glasses and open bottles covered before we started. As a consequence, the club owner had to pay a fine! Curiously enough, however, we've never had a single guest complain about any spunk in their glass during a single one of our shows!
I will never understand German law. In some cities, such as Berlin and Hamburg, you actually need what is called (in bureaucratic German) "Genehmigung zur Zurschaustellung von Personen" – in other words, a kind of "Fuck Licence", which allows a club to hold hardcore shows. Without this paperwork, which costs between €50 and €300 depending on the city, such shows can't take place; but with it you're even allowed to have a gang-bang on the dance-floor!
Lets hope we don't need hat kind of licence when we do our shows in UK this year.
Kiss Johan
For more information go to: www.Johan-Volny.com