There's no business like show business – Johan's Blog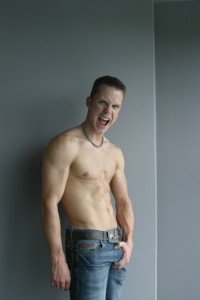 We've really had a lot of shows this recently, in Germany, Belgium and Austria. As a result, I've been on the road every weekend this month, and on occasion have even had three performances in three different cities in one weekend!
As you know, the shows are always hot and horny for all of us – thanks to the sleazy things we're constantly getting up to. But sometimes the trips to and from the shows are even hotter!
You know me well enough by now to realise that I'm not the sort of guy who goes for cheap toilet-sex, but on occasion I do make an exception. This happened the other day. I was sitting at the airport and waiting for my flight, which had been delayed – this was at Heathrow, by the way, so what else should I have expected? Anyway, I passed the time glancing around the waiting area, when all of a sudden I noticed this blond twink, who was about 19 years old. Having gained eye-contact, he promptly began to play the "I want to shag you" game. You know what I mean … provocatively lifting his tee-shirt, spreading his legs, scratching his cock and watching me whilst licking his lips.
I've never had sex in a public toilet in the UK before, and I've never had sex with a British guy outside the movies. So I decided to follow him. We didn't exchange a single word whilst sucking and stuffing each other, and it was only after we both came that we smiled and introduced ourselves to each other. So it was only then that I realised that he was Czech, too, and that he was actually waiting for the same flight back to Prague! Honestly, I'm starting to think that I shall never enjoy private sex with an English guy
We don't always fly, however – quite often we take the car to participate in shows, especially when they take place in Southern Germany. I like driving on the German autobahns because there's no speed limit and they're in very good condition – the result of German efficiency, I'm quite sure. Whenever you use the roads in the Czech Republic you begin to appreciate such things! Anyway, another big plus about driving is the monotonous vibrations that you experience – something that always makes me and other boys especially horny, particularly after you've come straight from some hot and sweaty party where you've had sex on the bar in front of several thousand party guests!
It's happened several times now that one of the other guys has sucked me off whilst I've been driving back from a show – though always at night so that no truck driver can see what's happening behind the steering wheel of my little Ford Puma. I must confess that I really enjoy this sort of thing – made all the better by the fact that my friends, Jimmy Call and Robin Few, have developed a truly excellent technique in sucking a car-driver whilst he pelts at full speed along the German motorways!
Sadly, that's all I've got time for right now – for various reasons. Firstly, Gordon, the chief-editor of Bent Magazine, is waiting rather nervously for this blog, which (as always) is late again! I'm sure he curses the day when he first met me and offered me a deal to write for his magazine! Secondly, I still have to wear the nice "Van Damme" underpants that one of you lucky readers will win this month. As promised, you will not receive a fresh pair, but rather one that's signed (and used!) by me. And thirdly, I'm due to meet up with my friends at the winter market, to enjoy a few glasses of hot, mulled wine. Suffice it to say that the only way you can get through the cold, snowy winters that we have here in the Czech Republic is to get lots of alcohol inside you and remain perpetually half-drunk!
See you all again very soon! And don't forget to check my site: www.Johan-Volny.com
Kiss
Johan