Running hot and cold! Johan Volny Blog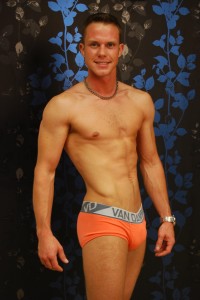 I've just enjoyed three weeks of holidays – full of endless sunshine, and a temperature of 35°C! But now, alas, I'm back in a very cold Czech Republic, where we've even had our first snow of the winter. A fall of 10cms, which I can describe in one word – horrible!
I spent most of my vacation in Thailand, with a few additional days in Kuala Lumpur for some serious shopping! In total, three weeks of pure relaxation, sun-kissed beaches and the very cutest Asian guys. It all seems like a dream now that I'm back home. Why, the first thing I had to do upon my return – after first switching the heaters to full power – was to shovel snow away from the front of my house. Unbelievable!
Anyway, let me tell you all a little bit about my holidays – if only to make you jealous! It was my very first trip to Asia, and not surprisingly I've been quite excited about it. That said, I wasn't altogether sure whether I would like Asian guys – and Thai guys in particular – given that I'm generally into taller, muscular men. But what can I say? I've completely changed my mind. In fairness, I still prefer the Caucasian, muscular type, but I've enjoyed some really fantastic experiences over the past couple of weeks. And Thai guys, it seems to me, are really, really cute!
My first "interaction" with some cute Thai men came after dinner on my very first evening in Thailand, when my friend and I went to DJ Station, one of the most popular gay clubs in Bangkok. It was a Friday night, and the club was packed – mostly with Thais, but also a few Western tourists. The first thing I noticed about the local men, however, was that they were all so small. Gees, it must have been the first time I've ever been to a club where I was one of the tallest guys there! As a result, I had a fantastic view of the stage above all the other heads in the room! The second thing I noticed was how soft, smooth and nicely tanned the skin was on all these guys. All I can say in that respect is "Wow!"
DJ Station itself was fun. Around midnight they had a drag-queen show, and after that the party really kicked off. There was even some kind of dark room there – need I say more?
Of course, I also took the opportunity to enjoy a massage. You know – the one with "special services". It was a really special experience for me, I must confess. You enter the parlour and find that there are about 30 or 40 cute Thai guys standing in a row – like tins on a supermarket shelf. You select one of those lads and then he goes off and prepares the room for you whilst you freshen yourself up a bit in readiness
The massage started in the traditional Thai style, with a lot of stroking and soft kneading. Then I had to turn onto my back and the guy started to massage my thighs and cock. Moments later and he was sucking me off – which (needless to say) resulted in me getting hard really fast. Then, whilst still sucking me, he put a condom on my cock – wow, I really liked that style! – before dimming the light and sitting down on my rock-hard shaft. A few seconds later and he was riding the full length of my cock, whilst still massaging my six-pack and legs. And all of this happened without so much as a single word exchanging between us, since I spoke no Thai and he didn't speak a word of English or Czech! Despite this, I enjoyed a really nice and totally satisfying cumshot, whilst he came all over my stomach shortly after me. Then we headed for the showers, where he washed my body down and completed his duties by sucking and wanking me again. In all, a really horny experience – and perhaps one of the most extraordinary encounters I've ever had!
Another day, I visited a Thai-Boxing school – an experience that, unfortunately, proved to be somewhat embarrassing. The place was advertising some training for Westerners, and as I do kick-boxing at home on a professional level I felt more than confident that I would be able to hold my own in the ring with them. But how wrong you can be! Wow, I never stood a chance with these guys! Nevertheless, it was a really interesting experience, and as a result I think I learnt one or two tricks that might prove very useful the next time I'm in a kick-boxing fight back at home.
I'm certainly very grateful that they used their slow routine when fighting me, rather than taking me on at full pelt – but even that was more than enough for me. My whole body was still hurting days after the lesson and I was more than happy that I could spend the following week on the beach recovering – 35°C in the shade, seated in a deckchair, with a cold beer in my hand and some cute guys all around me giving me a neck message!
Now that's what I call the perfect holiday!
Kisses
Johan
Special offer for Bent readers: Every new member who signs up to the web site will now receive 2 free DVDs (this special will end 21st Dec 2009). Every new member receives the DVD – guaranteed! There is no risk: you can cancel your membership anytime. One e-mail and it is done!
Check out:     www.JOHAN-VOLNY.com