The White Boy Can Sing! – By Jason Guy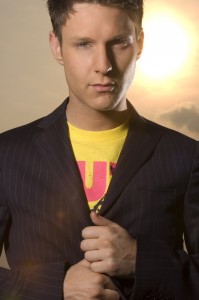 Jonathan Mendelsohn may be a new name for many of you, but things are about to change. Born in Brooklyn in 1980, as a child he spent countless hours singing along to Top 40 music with a fisher price radio armed with a toy microphone, something I'm sure we can all relate to.
After teaching himself piano with the help of his mother, a classically trained pianist, he began writing his own songs and developing his craft as a singer/songwriter. In high school, he found himself basking in the debauchery of the '90s rave scene where he discovered his other musical passion. Electronic dance music.
A few years later he found himself on stage at the legendary amateur night at the Apollo theatre in Harlem, New York. The very same theatre were legends are launched from The Jackson 5 to Stevie Wonder. What was it like stepping onto that hallowed stage? "Sheer terror! The audience will actually boo you off stage if they don't like your performance so you can imagine my nerves. When I started singing there was so much of an uproar I couldn't hear myself and I couldn't tell if it was good or bad.  They were all like 'White boy can sing!' ".
Following in the footsteps of Michael Jackson, surely he influenced you on so many levels? "You know, I really wasn't allowed to listen to him growing up because my parents were super Christian and they shielded me from secular music. My mom once told me that Satan was MJ's father! True story!" And when he heard about Michael's untimely death he was "in bed crying about Farrah Fawcett". A man after our own heart!
His latest single 'Forgiveness' a collaboration with the Wamdue Project is due for release on the 10th of this month and is already riding high in the Upfront Charts and is on it's way to being one of the house anthem of 2009. In a couple of days time he's heading out to Ibiza to perform live for Fierce Angel at the superclub El Divino. "When I started to get into dance music and DJing I would read about Ibiza in Mixmag and I remember thinking, one day I WILL be going there. I never thought in my wildest dreams my first trip there would be to perform. Cool Shit!"
How did Forgiveness come about? "The music for Forgiveness was sent to me by Chris Brann who produces all the music for Wamdue Project and I chose to write to it about what I was going through in my relationship with my partner of 6 years.  All these horrible things were happening like broken trust and disrespect and before all of this I really thought we were meant to be together forever. I just spilled my guts and I wrote some painfully honest lyrics. Everything seemed to fall in to place after that."
Now, you have to excuse he for being a bit selfish for 2 minutes, but seeing as Jonathan lives in New York and I'm visiting in a couple months, I thought I'd get some inside knowledge as to where to visit on the gay scene, as previously I'd always found it a little bit, well tired. "The gay clubbing scene in NY is constantly changing and evolving but always exciting. The hot party of the moment is Vandam on Sunday nights at Greenhouse. It's run by Kenny Kenny who was one of the original Club Kids back in the late 80's/early 90's during the legendary Limelight days. Great music and everyone is always decked out in fabulous and freakish costumes and you're bound to see a plethora of celebrities on any given night. Also B-Bar on Tuesdays nights remains the place to see and be seen as well as longstanding party Hiro at the Maritime."
For a guy so talented and well, good looking, why hasn't someone come along and swept him off his feet? "Well If I could grab him off Fergie's arm it would be Josh Duhamel (google him – you'll be glad you did!) but it would probably be a big tease cause he is straight. Oh! And Wentworth Miller for sure". You've gotta admit it, the guy has taste!
Wamdue Project featuring Jonathan Mendelsohn is released on the 10th August and is also features on the Fierce Angel CD "El Divino Ibiza 2009". Find out more at www.jonathanmendlesohn.com / www.thefutureisfierce.com