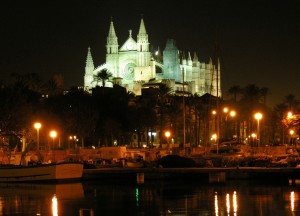 Seen Ibiza? Loved Menorca? Adrian Gillan tries that other beautiful Balearic: mighty Mallorca!
It bore the likes of Rafael Nadal – so it won't bore you! Largest of the Balearic islands – those Spanish gems set in the Med – Mallorca has a diamond shape, the north east- and south west-facing sides of which support large bays, the former vast and sandy, the latter dominated by capital Palma; the north west-facing side, being ridged by the Serra de Tramuntana range soaring to 1450 m; the south east side dotted with secluded Menorcan-style coves. Romans conquered indigenous settlers, only to themselves be ousted by Moors, trailed by Christians and Spaniards, then the mass-market package holiday brigade plus, increasingly, discerning queers, after year-round sun but a more local, authentic scene than the in-your-face global gathering on nearby Ibiza.
TO STAY
Hotel III Tres (Calle Apuntadores 3, Palma de Mallorca; T: 0034 971 717 333; www.hoteltres.com) – Boutique 4* hotel in old Palma, overlooking the Cathedral; offering contemporary chic within a 16th Century palace, with great courtyard and roof terrace.
TO SEE 'N DO
Palma – Half of Mallorca's 700,000+ population live in its buzzing capital, recently voted the best Spanish city to live in by a national magazine. Highlights include the well-nigh-waterfront Seu Cathedral; nearby Old Town with ancient 10th Century Arab baths ruins; 14th Century hilltop Bellver Castle just west of centre; marina and busy working port; and Joan March Gallery, brimming with the likes of Picasso, Dali and Miró – plus self-explicably eponymous Juan Miró Gallery; and fab contemporary Es Baluard(www.esbaluard.org). Do breakfast at historic Can Joan de S'aigo café (Ca'n Sanc 10; T: +34 971 710 759), beloved by locals ever since opening shop in 1700AD.
Sóller & Port de Sóller – Take a pleasant 60-minute mountain train ride out of Palma up into the small picturesque town of Sóller in the lofty Serra de Tramuntana, then another 15-minute tram ride down to the fishing village of Port de Sóller. Train/tram details: www.trendesoller.com
Valldemossa – Monastery-dominated mountain village north-west of Palma, once home to an ill Chopin and his lover. Also check out nearby Deià, once home to Brit author, Robert Graves.
Roman remains – These are dotted all over the island, but particularly impressive are the ruins (theatre plus houses) of ancient Pollentia, near Port d'Alcúdia, to the north.
Secluded bays ("cales") – If you've been to neighbouring Menorca, you'll be strangely familiar with bits of Mallorca's south eastern coast, with its numerous well-nigh hidden bays, many of them with small pine-fringed sandy beaches reached by winding paths, ideal for skinny-dipping.
TO BOOZE 'N CRUISE
Mallorcan gay life if pretty much all centred around capital, Palma – mainly in its Gomila district, about 20 minutes' walk from the Cathedral, in the shadow of the Castle, on/around Avenida Joan Miró, including…
Bars
Aries (Porras 3) – Modern music bar with dark room; adjoining gay-beckoning hotel and sauna.
Dark (Ticià 22) – Recently-opened cruise bar with cabins, slings and things.
Isi (Alvaro de Bazán 2) – Pub.
Rosamar (Joan Miró 74) – Terraced bar and gay-friendly hotel.
Silenci (Joan Miró 57) – Chic bar.
Clubs
Black Cat (Joan Miró 75) – Thurs to Sun drag shows; with dark room.
La Demence (Polígono Son Castelló) – Mixed but gay-frequented, north of centre.
Saunas
Sauna Aries (Porres 3) – Modern steamer; adjoining gay-wooing bar and hotel.
Otherwise, gents oft "take airs" in Palma's Parque del Mar, aptly just in front of the Cathedral. Also a few gay venues in nearby Arenal. Yet further afield, try the south-eastern nude beach of Es Trenc.
OTHER USEFUL CONTACTS
– ends –
Visuals: Selection of 2x hi rez Mallorca jpgs attached on accompanying email. Please also kindly include the Monarch image (small) provided, in the 'Contacts' section, next to text, since Monarch kindly assisted.