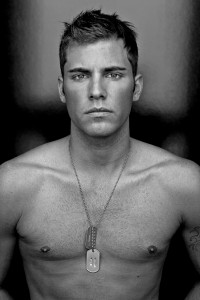 Let him Breathe
Where have we heard this one before? Would-be model has a go at singing… fails! Well, let me be one of the first to say I doubt this will happen to new and out gay performer Billy Dortch. He has the looks and, if his first single 'Breathe' is anything to go by, he has the voice and a pretty good tune to take him to the top. Bent caught up with him as he wrapped on the set of his first music video.
You went to LA to pursue an acting and modelling lifestyle… was this just an idea or had you already taken to the boards or catwalk before the move?
I grew up in Sacramento, CA. It is about 6 hours drive north of Los Angeles. I knew from a very young age that I would be moving to LA for one reason or another. I think anyone that has a creative spark moves to LA or NY. I moved the day after I graduated High School. As far as the modelling, I was a cute kid, an awkward looking pre-teen, then when I was about 16 I started to grow into my face…haha. I was scouted by an agent on a family vacation of San Francisco.
How did you stumble into singing?
Stumble is a very good word! haha. I was always a shower singer, yet was never confident enough to sing in a serious setting. I actually got into singing when I was drinking at a karaoke bar, acting like I was in the shower, singing. I had some liquid courage, and a producer happened to be listening. I thought he was joking when he approached me to do a demo.
Is it a career change you are pleased with… and is the acting now on hold?
Yes, I would say so. I was living in LA for 5 years and the acting was very hard. Within less then a year with the music I already have my songs on itunes, just shot my debut music video, and will embark on my European mini-tour this summer. I think the music just clicked, great timing, and knowing good people helps.
You say you are a gay and out singer, when did you decide to make the announcement?
The moment I really decided to take this career to the next level. I am not going around waving rainbow flags on stage. However, I think it is important to me to know who I am exactly.  I also don't think there are enough out artist that are open from the start. They have to be outed. I would rather out myself. If I can tell my parents at 17 yrs old, I should be okay with my fans knowing.
Is being gay that important these days?
I look at it more like it is important for younger teens who may be gay or bi to have someone to look up too. When it comes down to it, sexuality should be a non-issue for anyone in public eye. Since it is, I may as well turn it into something positive. I would have loved to have a teen crush on a "pop star" who I knew was actually gay when I was a teen. It makes you feel less alienated
What's a good night out for Billy?
A few Margarita's with my friends… gossiping like little girls…haha. Or a bonfire on the beach drinking beer and cuddling with that special boy. I plan to do that many times this summer.
Do you have a guilty pleasure?
Yes!! I cant fall asleep without watching The Simpson's every night.  It's some sort of sick disorder..haha. I also love date nights with myself watching "The Office" and eating a pint of ice cream.
Who would be your fantasy bedmate.?
Dolly Parton! Just so I can see them jiggle!!!! Then I can try on her wigs. Just kidding. I'll have to say the classic David Beckham answer always works. Those underwear ads  are… great!
When are we going to see you in the UK?
I was hoping to come to London this year to perform at gay pride. I will be in Berlin performing gay pride there… maybe I will take a few days extra and explore London. I can use a good tour guide, Boys?