Johan's Blog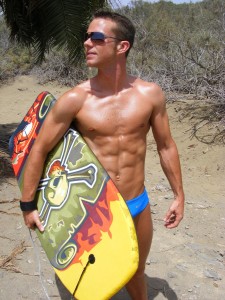 First, I would like
to thank you for all the letters and e-mails I received via Bent magazine and on my site www.johanvolny.com. I have to admit that most of them have been quite explicit and for adults only. And some of the pictures you have send ma
de me blush – trust me I have seen a lot during my porn career. So please: Don't send me photos of your
There have been many questions about my private life and sex life but most of the questions are about happens before filming starts.
I was told by some guys in the trade not to have sex before hand and to keep to a high protein diet. Well, I found out that my cum is not whiter or has more volume even if I eat tons of oys
ters before a shoot and as for abstinence: That's definitely nothing for me! I am wanking about 3 times a day. I just have to do that. Before filming, I am so nervous and horny that I even have to do it 4 times a day! I stop about 15 hours before the shoot starts so that the amount of cum will be big enough for a nice and proper close-up. They like it better when there are floods of the stuff. However, there are certain rules, which count for everybody: hygiene, douche, stretching the hole, getting to know each other.
At the start of a shoot, I alway
s meet with my movie partner the evening before the show. We have a drink together, chat a little bit and try to get to know each other. Then we sleep together. No, not that way! We just share a bed, cuddle a little bit and touch each other a little bit more. That's it! That is quite important as we learn a lot about the partners, about their reactions, likes and dislikes.
In the morning before the shoot, we share the bathroom together. Here we shave (face, balls, and ass), douche (not only the mouth and throat) and take a shower.
I don't like to be shaved by some make-up artist on set, so I prepare my hole and balls the day before at home.
Breakfast is normally cancelled for me. A full stomach is not that attractive – and a bad shag. In addition, my six-pack looks better when there's nothing is in my belly. Therefore, I will only have a couple of strong coffees and that's it. When my stomach is grumbli
ng
because I am that famished… we just have to moan a little bit louder while having sex. (Ha ha)
About half an hour before the shooting, it starts to become intimate. I retire with my partner in a quiet corner and we start to play around with each other's cocks for a bit.
I'm usually top in the DVD so we also stretch my partner's hole. We use dildos in various sizes, so plenty of lube and finally my own hard cock. This preparation is quite important as we have to be fast during the shoot and t
here is no time for relaxing. His bum has to be open and ready for action to take what I have and we don't want to hear any wailing. If my cock is too big for my partner we already know before the cameras are rolling and we can find a last minute replacement.
Finally, we start:       "And action!"
photos: www.staxus.com; Carsten Schlink.