Framed – Lucille Ball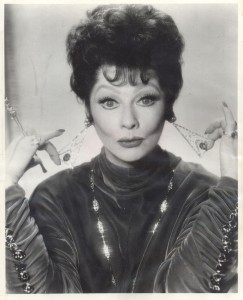 Lucille Desiree Ball was born in 1911 and was to become one of America's biggest TV stars with iconic shows such as I Love Lucy , The Lucy Show and Here's Lucy… she certainly wanted people to know her name.
Despite the fact that her most famous shows would all have her name in the title she originally started her career on Broadway using the pseudonym 'Diane Belmont' she never explained why she chose the name, but she soon dropped it as Diane kept getting sacked.
After it was discovered she was dating the son of a local gangster her mother shipped her to the John Murray Anderson School for Dramatic Arts something she didn't originally intend to study. There Ball befriended Bette Davis as they were classmates but her drama teachers told her she 'had no future in performing arts.'
She never gave up the desire to act but when things didn't go too well she became a model. During this time she befriended another gay icon (though debates rise about her friendship with Bette) Ginger Rogers and they became friends for life.
Quite bitchily Ball was known for many years of her early acting life as 'Queen of the B's' as she never seemed to manage to get in an A-List movie and wasn't deemed an A-List star!
Mixing work with pleasure Ball met her first husband Desi Arnaz on a job, they eloped causing quite a stir and he ended up playing her husband in I Love Lucy. However, the couple also became quite infamous for their public rows and his constant affairs, they always seemed to make up, some said for the sake of the show rather than their marriage or children.
Ball was fiercely independent and wanted women to be seen as strong. She became the first female to head a production company in TV after divorcing her husband and buying out all the shares of his own company. That showed him.
Her career went into a small decline after her second marriage in the 1960 however Ball didn't seem too bothered as she had a thriving business. Things changed in the 1980's when she tried to make a comeback with Life With Lucy the show flopped and Ball went into a serious depression.
Lucy has a museum, theatre and stamps made in her honour all post-humorously. After her death she received The Legacy of Laughter award and has since entered into the Hall of Fame in America.