Europride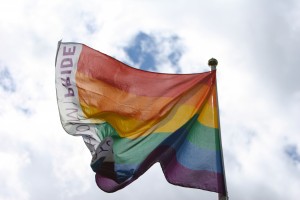 It was London's turn in 2007 but this year's biggest pride festival in Europe is in Stockholm, Adam Tamsett checks out the city
Scandinavia's largest city, Stockholm, is this year's host to Europe's iconic pride event. It hits the city from 25 July to 3 August where the picturesque streets will be painted in rainbows for one of the biggest gay events of 2008.
Sweden is one of the most liberal countries in the world for gay rights – so look forward to a spectacular parade including Scandinavian favourites such as the Viking Bears, Stockholm Queer Volleyball and even the gay Christian group.
Stockholm is unusual in that it's built around 14 islands, with the pride parade being held on the main island, Södermalm, and is likely to attract over 10,000 people to the city. It's also one of the world's most alluring cities; its numerous waterways are criss-crossed by 57 bridges giving it a unique and attractive twist.
If the screaming queens at pride aren't quite your thing, the city still has plenty to offer. The stunning Royal Palace (Slottsbacken 1, www.royalcourt.se) was base of the Swedish monarchy for 300 years, after the original building was destroyed by fire in the 17th Century.
Also check out the Vasamuseet (Galärvarvsvägen 14, www.vasamuseet.se) which houses a perfect restoration of the world's only surviving 17th Century warship. It sank on its maiden voyage 400 years ago, and is magnificent yet eerie in its sheer size and grandeur.
The city as a whole is spotless. Winding cobbled streets in the Old Town – Gamla Stan – meet contemporary Swedish design across the city which looks like it's come from anything but an Ikea flat-pack.
Right at the heart of the city is the gay-friendly hotel Rica Hotel Kungsgatan, ideally placed to start exploring the city. The hotel even has a lift straight down into PUB – one of Stockholm's largest department stores with a great selection of designer stores and boutiques.
The city's various indoor markets, such as Östermalms Saluhall (Östermalmstorg www.ostermalmshallen.se) serve super-fresh food from the various small cafes and market stalls selling fish, bread and local pastries. What better place to sample one of the Swedes' trademark dishes – meatballs with fresh loganberries or one of the many seafood dishes caught straight from the Baltic Sea.
Scandinavia has a reputation as a whole as being very expensive, but while you're unlikely to find a pound a pint in any of the bars, prices are certainly improving in comparison to a decade ago. Expect to pay at least London prices in restaurants, bars and in museums.
After your day's sightseeing, chill out in the spectacular Absolut Ice Bar and enjoy vodka as it was intended – at -5 degrees! The entire interior, including the glasses, is made from 100% clear ice from the Torne River in Swedish Lapland. (Vasaplan 4, www.nordicseahotel.se)
Stockholm doesn't have the usual gay enclave of bars and clubs, instead gay and gay-friendly bars are scattered around the city.
Stylish bar Torget (Mälartorget 13,www.torgetbaren.com) is situated in the heart of the Old Town and hosts a different theme every evening, providing the perfect place to start your evening.
Much of the scene has its boys dancing to 'schlager' – a unique Swedish brand of euro-trash pop, highly suited to Eurovision – not only for the main event, but also during the Melodifestivalen, the country's final to select their entry to Eurovision, when almost half of the country tune in leaving the streets deserted.
Expect to find schlager along with a mix of house and trance at Lino club (Södra Riddarholmshamnen 19, www.linoclub.com, Saturday only), the city's largest venue with three dancefloors and beautiful people abound.
The vintage old Steamboat Patricia (Stadsgårdskajen 152, www.patricia.st), located at Slussen, houses a younger crowd and has rightly earned its reputation as the place to end your weekend in style.
Extra info
To stay:
With over 270 rooms and at the heart of the city, Rica Hotel Kungsgatan is the perfect host. They also offer special rates including your pride ticket for the festival this summer. Check out www.rica.se and www.stockholmpride.se for more details.
To get there:
Sterling Airlines is Scandinavia's largest low-cost carrier and offers year-long flights directly from East Midlands and Gatwick Airport to Stockholm and more than 35 destinations across Europe. Visit www.sterling.dk to book flights.
Gay information:
www.qx.se have a gay guide to the city in English including a printable map of the scene's hottest venues.