Magic Murcia!
Adrian Gillan meets mucho machos in the emergent gay Mecca of Murcia, in South East Spain!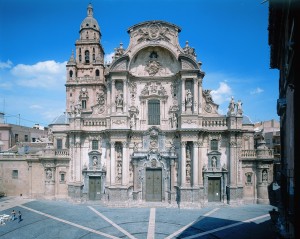 You mightn't have heard of it, but the city (pop. 400,000) and region (pop. 1.2 million) of Murcia in South Eastern Spain – with its glorious Baroque architecture, gushing River Segura, amazing food, tasty local Jumilla wine, access to hills and sun-drenched Costa Calida coast, not to mention nearby historical Lorca, Caravaca and Cartagena – is fast becoming a holiday hub of choice for those in the know. Check it out before the crowds really start to throng – not least all those sexy, unspoilt Murcian men.
TO STAY
Hotel Arco de San Juan (Plaza de Ceballos 10; T: +34 968 21 04 55; www.arcosanjuan.com) – Restored 18th Century palace, now a modern, plush, central gay-beckoning hotel with droolsome restaurant – a mere spit-and-a-spunk from the Cathedral and nearby gaybourhood.
TO SEE
Start at the city-dominating Cathedral, with its stunning Baroque façade and celebrated, exquisitely-carved chapel within. Then stroll up Calle Traperia, past the historic, ornate Casino club, to the bustling café-filled Plaza de Santa Domingo. Cut down an alley westwards to the impressive Teatro Romea (even more impressive on the inside, if you pop in to see some Spanish-language show); and then yet further westwards through a warren of streets to the Museo Salzillo (www.museosalzillo.es) housing the work of its eponymous 18th Century sculptor who wood-carved and hand-painted dramatic religious figures and biblical scenes, most notably his passion-week "pasos" which feature in the annual Santa Semana procession through town each Easter. You will especially enjoy the spectacularly androgynous St. John and the sexy topless angel mounting Jesus in the Garden of Gethsemane! Then flit to down fresh local tapas with a few small cold beers in the café-brimming social hub that is the Plaza Flores.
TO EAT
Los Zagales (Calle Polo Medina 4; T: +34 968 21 55 79) – Feted, authentic joint, trading since the '20s, offering locals (and you) top quality tapas, for a mere snip of a song! Try bacon stuffed with dates; or anything with fried quails' eggs!
TO DANCE, BOOZE 'N CRUISE
Most gay venues are pretty central, within five minutes walk of the Cathedral.
Bars
Ocio (Calle Victorio 20; no phone) – Tiny but buzzing DJ-bar. Mixed but very stylish and friendly.
Sentido de Noche (Calle de la Trinidad, off Calle Victorio; no phone) – Camp long bar, near Ocio. Chic mix of class and kitsch. Candelabras, zebra-skin wallpaper, pseudo-guilt furniture. Get the pic?
Pisces (Plaza Santo Domingo 6; no phone) – Large, busy gay venue with two bars, a big dance floor and lots of darker areas. Crammed with young cuties bopping their stuff.
Clubs
Metropol (Calle Portada, off Carretera de Puente Tocinos; www.metropoldisco.com) – Thursday to Sunday, 2am 'til late. Vast modern dance space just east of centre. Brilliantly designed with bars aplenty, a show stage and hanging bridge-cum-catwalk dominating the entire venue, plus cruisy darkroom adjoining gents.
Blakey's (Calle San Antonia 1, easy to miss, down a passage; no phone) – Popular after-party, mere yards from the Cathedral. Opens at 6am, as other clubs shut. Shuts itself around lunchtime.
Sauna & Cruising
Nordik (Cartagena 72, entrance around corner; T: +34 968 25 91 20; www.saunanordik.com) – Tad down-at-heal sauna just south of the river with an indisputably aging clientele – if that's your thing.
OTHER USEFUL CONTACTS
– ends –
Visuals: 2x hi rez Murcia jpgs attached on accompanying email. Please also kindly include the Monarch image (small) provided, in the 'Contacts' section, next to text, since Monarch kindly assisted.