Kylie Minogue Nervous About Film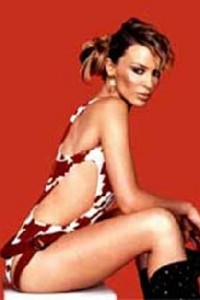 Kylie Minogue tried to stop a revealing documentary about her from being aired – because it shows her trying to cope with her split from Olivier Martinez.
The film 'White Diamond' was shot before and during her 'Showgirl Homecoming' tour, when Kylie had just beaten breast cancer and her four-year relationship with Olivier had ended.
The Australian singer admits the thought of people seeing the film left her feeling nervous and tearful.
Kylie wrote on her personal website: "A couple of my new tracks, including 'I'm Hip' and 'You Are There', are featured on the soundtrack to the documentary, 'White Diamond', which was made in the lead up to and during the 'Showgirl Homecoming' tour.
"William Baker directed this two-hour film, in which there are many funny and many tearful moments.
"I have to admit I was a little nervous to work on such a revealing project and I did pull the plug several times, but due to Willie's persistence it is now almost finished. It gives a great insight into the world of touring and the touring family."
The documentary is scheduled to be released later this year, while Kylie is currently working on her new album.