Star Of Cult Tv Show 'the Munsters' Yvonne De Carlo Dies
Star Of Cult Tv Show 'the Munsters' Yvonne De Carlo Dies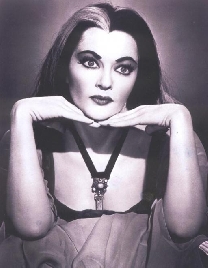 US actress Yvonne De Carlo, who starred in films opposite Clark Gable and Charlton Heston, has died at age 84 of natural causes, at the Motion Picture & Television facility in Woodland Hills, California on January 8th, 2007 and is survived by two children, Bruce and Bari.

De Carlo won enduring fame as Lily Munster wife of a Frankenstein monster-like character in the cult TV series The Munsters (1964-1966). This allowed De Carlo to demonstrate a comic flair that her films had failed to utilize.

DeCarlo performed on Broadway, notably in the role of Carlotta Campion, introducing the song "I'm Still Here" in the Stephen Sondheim musical Follies, of which show she was the last lead female performer to die (having been predeceased by Alexis Smith, Dorothy Collins, Fifi D'Orsay and Ethel Shutta).

Trained in opera and a former chorister when she was a child in Vancouver, De Carlo possessed a powerful contralto voice and released an LP of standards called Yvonne De Carlo Sings in 1957. She sang and played the harp on at least one episode of The Munsters.

De Carlo worked in both film and television, playing her most recent role in the television production of The Barefoot Executive (1995).