Hollywood star WESLEY SNIPES has been arrested by police in Orlando, Florida, on charges he avoided paying $12 million (£6.15 million) in tax.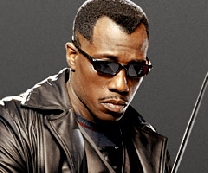 The 44-year-old actor handed himself over to cops, almost two months after he was indicted while shooting movie GALLOWWALKER in Namibia.
The US Internal Revenue Service has reportedly been investigating Snipes for the past four years – but the star claims he has been targetted because his celebrity attracts public interest, and in actual fact he is the victim in the case.
He recently told an Orlando newspaper, "It appears I'm to be the scapegoat, because there's more public interest in celebrities gone bad than rich people being taken advantage of.
"I will abide by the law, seek the protections the law affords me and, as always, seek the advice of competent council in an effort to resolve this issue.
"I'm not running, I'm not a fugitive, despite the misrepresentations in the press."