Robbie Williams Says No To Fatherhood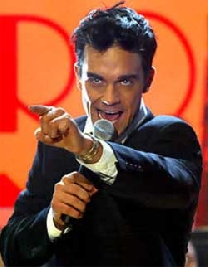 Robbie Williams doesn't want to have children because he wouldn't want to see them suffer.
The pop megastar has suffered from depression in the past and could not bear the thought of his offspring experiencing the same agonising lows as him.
In an interview with British magazine The Big Issue – which is sold by the homeless to raise cash for people on the streets – he said: "I don't know if I want to be in a relationship. I don't believe that to be fulfilled you have to have kids. What's the point? I can't guarantee my child won't suffer pain – because that kid is going to be in pain at some point in their life. I don't want to see that. It's too much."
Robbie, 32, also revealed he is happy with the level of success he has achieved, and is no longer interested in being a big star in .
The 'Angels' singer is starting to believed that British people are bored with him.
He added: "There isn't a country I want to break, a stadium I want to play, nor a film I want to be in.
"It's time for Robbie to go away in people's minds – not to be in for a bit."