Longoria Celebrates Engagement With Co-stars.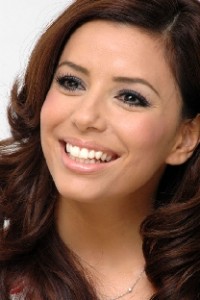 DESPERATE HOUSEWIVES star EVA LONGORIA was so thrilled with boyfriend TONY PARKER's surprise proposal she immediately wanted to share the news with her co-stars.
The professional basketball player proposed last week (ends08DEC06), presenting Longoria with a five-carat emerald-cut diamond ring with 247 accent diamonds.
She explains, "MARCIA (CROSS) and FELICITY (HUFFMAN) and I are really, really close. Telling them was really exciting!" Longoria showed up on set shortly after the proposal and says, "Marcia came into my trailer and Tony was with me.
"She was like, 'Tony, what are you doing here?' And then she looks at my hand and goes 'Aaaaah!' She let out the biggest scream. We were laughing so hard.'" Huffman, who wasn't on set that day, was contacted by Cross and told to call Longoria immediately.
She recalls, "I said, 'Is something wrong? Is she crying? What's the matter?' So I called going, 'Eva, are you ok, honey?' And she went, 'I'm engaaaaged!'" The happy couple have already set a wedding date – 7 July 2007 in Parker's native France.