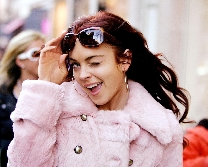 Lindsay Lohan is already a millionairess at 20, thanks to starring roles in a succession of hit films and a pop career. The former child star of The Parent Trap has hit the bull's eye on Freaky Friday, Mean Girls and Love Bug. So, Just My Luck – out now on DVD through 20th Century Fox Home Entertainment – is aptly titled. But her personal life has been far from lucky. First people claimed she was bulimic, then she was hospitalised by an asthma attack. There have been reports of too much partying and arguments with old girlfriends, like Paris Hilton. And her father, Michael, is serving a four-year jail sentence for fraud and assault. But Lindsay insists: "Setbacks inspire me to do better."
Why did you agree to the lead role of Ashley, who seems the luckiest girl in the world? It was a chance to do a lead for the first time – and one in which I felt that I could come of age. I also felt that no-one could be that lucky in life. I liked the twist in the story when she meets Jake, (Chris Pine) the unluckiest guy and they suddenly swap fortunes.
It's a comedy, how hard is that to do? I was acting to a film crew, so no-one is allowed to laugh. By the end of the film, I had no idea of whether I was funny or not.
Who makes you laugh? Will Ferrell is hard to beat. I laugh at all of his comic movies.
And what has been the most serious thing to live with in your own life?
The situation with my father, which I do not want to go in to. And I am very young, so I've had to learn from experience. I have made a lot of mistakes. The only difference is that my mistakes are captured on cameras some of the time. I keep on reminding myself that I chose to do this as a career – and no-one wants to hear me complaining.
Who is your heroine? Angelina Jolie, because she does not apologise for the way she does things. She is also a wonderful actress and an example to every woman who has tried to do something different with her life.
And which guys did you find sexiest? I am a huge Johnny Depp fan. But when I was a little girl, I loved Tom Cruise and thought we would be married one day. I once bought a plastic ring and wore it on my wedding finger, saying I was going to marry him.
Do you have a boyfriend right now? I am dating more than one guy, but none of them are serious. I have crushes and I have fun. I am not sitting at home alone.
What is your reaction to your ex-boyfriend, Wilmer Valderrama saying on radio that you were great in bed? It is up to him to decide what he says – and up to me not to deny it. We redheads are supposed to be passionate.
And when do you feel sexiest yourself? When I am wearing nothing at all – apart from some long eyelashes.