Angelina Jolie's Cheating Outrage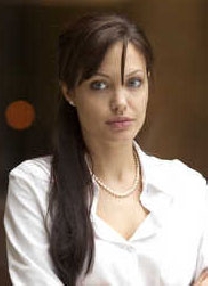 Angelina Jolie says stealing another woman's husband is "one of the worst things you can do".
The actress – who first met partner Brad Pitt on the set of 'Mr. and Mrs. Smith' when he was married to Jennifer Aniston – says she hated her character in her latest movie, 'The Good Shepherd', because she seduces a married man, played by Matt Damon.
Angelina – who now has a baby with Brad, Shiloh – is quoted by 's Grazia magazine: "She does one of the worst things a woman could do. One scene I actually had trouble shooting because I'm so against that behaviour.
"She seduces him, and entraps him into having a child. There's not much worse than that, is there? But they're both at fault. They both had sex that night."
Just last week, Angelina vehemently denied she and Brad had embarked on a relationship while he was still with Jennifer and insisted they remained "just good friends" until he split from the former 'Friends' star.
She said: "He was married to his best friend who he loves and respects.
"Because of the film we were brought together and this strange partnership suddenly happened. I realised I couldn't wait to get to work.