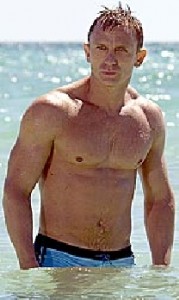 Casino Royale will bring a whole new generation of fans to the Bond franchise and effortlessly silence those dismissive of the new Blonde Bond – Daniel Craig.
With the exhilarating, adrenalin infused action sequences and Craig playing 007 as a ruthless killer capable of showing emotion, Casino Royale's convoluted plot is easily forgivable. Director Martin Campbell (who also helmed GoldenEye in 1995) takes Bond back to how he was originally envisaged by Ian Fleming in his first book, and has dragged Bond into the 21st century.
Terrorist moneyman Le Chiffre, played by Mads Mikkelsen, snorts an inhaler and has an eye that involuntarily weeps blood. He's lost a lot of money thanks to Bond subverting a terrorist attack and time is running out before a lot of angry men want what's owed to them.
The villains come thick and fast before a final showdown between Bond and Le Chiffre at a high stakes poker game.
When the going gets tough Bond really suffers at the hand of his sadistic nemesis. There's no dusting off of his DJ and leaping back into action with a cheeky smirk and a witty riposte. In Casino Royale Bond gets bloodied, battered and bruised.
Craig's piercing blue eyes exude an air of menace and seem to be telling us that he quite likes the kill more than the chase. In a squirm inducing torture scene with Bond actually naked, he taunts his captor even though it's touch and go whether his thunder balls will ever bounce again.
How unbelievably fit is this man. Watching Craig do daredevil stunts, crash through walls, and leap from crane to crane hundreds of feet in the air in pursuit of a potential bomber takes your breath away. A scene of him walking out of the sea in spray-on swimming trunks does the same, but for different reasons. With his exquisite physique, the new 007 has an animal magnetism not seen since Sean Connery.
Campbell has dispensed with sci-fi like gadgets and the tongue in cheek campery of previous 007s. Bond's love of Aston Martins, beautiful women and exotic locations – , , Venice, Prague – remain and in the hot ' climate he feels the need to take off his shirt quite a lot just to stay cool.
Casino Royale's love interest, Treasury accountant Vesper Lynd (Eva Green), keeps him in check, challenges his ego and eventually gets to his inner Bond, playing unbelievably hard to get during the run up to submission. A perfect figure and a classically beautiful face makes the first woman that the super spy falls in love with, a Bond girl to remember. The enjoyable banter developed from their initial disdain towards each other is clever and well paced.
Some fans will be disappointed that there's no 'Q' or Miss Moneypenny, but Judi Dench as 'M' more than compensates for their absence.
The only disappointment is the frightful theme tune sung by a wailing Chris Cornell, but the most anticipated film of the year was well worth the wait.