Confession: My Video Past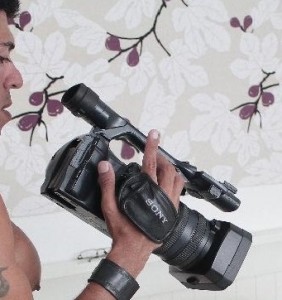 I was interested in reading the confession of John From London, http://mag.bent.com/2015/01/bent-confession-photograph/ as I am having a similar worrying experience.
Many years ago when I was young and just 'coming out' a couple of older guys I knew had bought video cameras. As a birthday treat they also bought me the services of very nice (and very horny) ex-Aussie football player who was selling his cock and arse in the personal columns of the gay press.
I met up with him at my friends' house and they had the bedroom all ready with their cameras set up and everything. I was a bit pissed by the time I arrived and didn't object when they said they wanted to film the encounter – after all they'd paid for it. My arse had never seen so much action as this guy shagged me in every position as my mates sought to get the best views and shots.
They were well turned on and kept encouraging him to go even further with me and I was like putty in his (very strong) hands as he moved me all over the bed, against the wall, on all fours. When he eventually came he shot all over my face and made me lick it off and swallow… that was followed by my two mates who did the same.
I can honestly say I really enjoyed the experience and it was well horny at the time… but now I'm worried in case the video comes to light on YouTube or somewhere similar, as I now have a very responsible job with the police force and it would probably ruin my career.
Brian, Wakefield
If you have a confession you'd like to share, please send it to editor@bent.com
Comments via Facebook
comments