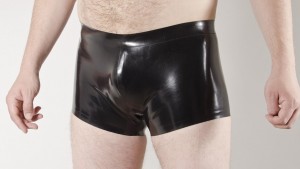 I've just bought a pair of rubber 'bummer' pants… I don't know if you've heard of them but I was on one of the auction sites and noticed them while I was searching for underpants.
They sounded right pervy: rubber with a built in dildo and sheath and lately I've found myself fantasizing about shiny rubber clothing after I saw a fantastic photograph of a horny rubberized fetish guy in a magazine. Anyhow they've become my own personal secret fetish as I put them on first thing in the morning after I've powdered my bum, cock and balls. At first the dildo was uncomfortable but now I'm used to it (amazing what a good dollop of lube will do) and I wear them to work. I sit at my desk all day with this rubber cock-like thing sticking up my butt and giving me a constant reminder what a pervy little sod I am. They keep me hot all day in more ways than one. I piss in them and cum in them (often) and just love knowing that no-one but me has any idea about the messy, sweaty, stinky, rubber pants under my work suit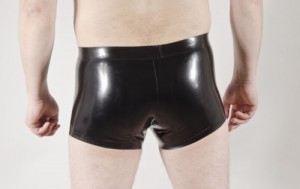 This is my confession but I would guess I'm not the only one who has the same type of horny rubber fun.
Cal, Newcastle.
If you have a confession you'd like to share, send it to: editor@bent.com
Image: ebay
Comments via Facebook
comments