Confession – Gay Neighbours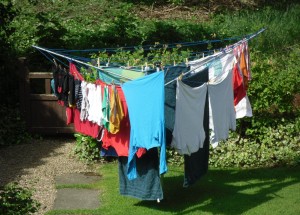 Hi.    I read with interest about the Confession of a young guy obsessed with an older man http://mag.bent.com/2014/05/confession-fat-is-the-new-black/  so here's my confession.
When I was eight years-old my family moved house to a very nice out-of-town, green estate. Our neighbours were two gay guys who my dad warned me not to speak to fearing they would want to do something to me.  I'm not sure but I suspect for the first couple of years we never really spoke to them except about trimming the hedges and a fox that was worrying the rabbits I kept. However, as I've gotten older, and my bedroom faces onto the back garden, I have found myself more and more intrigued by those men.
For ten years now I've been scared of even talking to them but now… well now things are building up in me. They aren't anything special; indeed, I wouldn't know they were gay if my dad hadn't warned me all those years ago. They aren't flamboyant, their clothing is like my dad's, and they don't have wild parties or play Madonna… or anything like that.  Unfortunately, now I spend a lot of time gazing out of my window watching them as they go about their business. Mowing lawns (especially if it's a hot day and they are wearing nothing but a pair of shorts), pottering in the garden or even hanging out their washing. I have become obsessed with their underwear and have thought a few times about pinching a pair from their line and wearing them myself (The photo is a shot from my window). I do think about them and they are a constant inspiration when I'm alone in my bedroom…  all three of us doing some really fantastic things. I just want them to notice me, talk to me because I'm not sure if I'm gay but I think they might know. Should I 'inadvertently' get caught stealing their briefs and then they will have to speak to me… although I'd be worried about what dad would do?
 William, Leeds.  
Do you have a confession you'd like to share with Bent readers, send it to: editor@bent.com
Comments via Facebook
comments