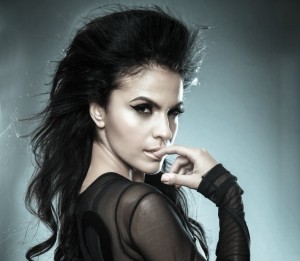 by Jonathan Markline
We are hearing terrific things from over the pond about new singing sensation Vassy, whose follow up to her smash song "We Are Young" – featured on the soundtrack of Disney's Frozen – and is a high-energy club track that encourages fans to embrace their inner crazy.
Co-produced with Dave Audé, "Mad" is darker than Vassy's previous tracks but is intoxicating with a sensorial vibe.   "We all have that little darker side within us," the artist laughs, admitting that she, too, has trouble slowing down in life.  She blames it on her OCD, but says it's healthy to let the insanity out every once in a while.  "Otherwise, the crazy will build up and explode in you."

Asked about the inspiration behind writing the song, Vassy points out that "People are crazier than ever.  I think it's from stress.  We are all so overwhelmed.  Everything runs much faster today than ever before." 
She also feels people waste time trying to fit into society's mold rather than celebrating their individuality.  She learned it was better to stand out when at seven, she was kicked out of her school choir for singing her own melodies and not following along with the other kids.
"I wanted everyone to hear me," she explains. "I have never been one to follow the pack.  I have my own ambitions." 
Those ambitions led to a young Vassy leaving her family in Australia to pursue her music dreams in America.
In 2010, she released "History", a soulful dance track that played heavily in dance clubs. She supported the track with performances at Pride Festivals in Los Angeles and Chicago and at trendy clubs in Hollywood and New York City.
Today, she calls Los Angeles home. In addition to writing for herself, Vassy has written songs for hit television shows including Grey's Anatomy and Ugly Betty, motion pictures including the Tina Fey/Paul Rudd film Admission, video
games, and pop artists like Paris Hilton, Pussycat Dolls' Jessica Sutta, t.A.T.u.'s Lena Katina, Afro Jack, and David Guetta. She wrote Carmen Electra's latest single, "Werq".
She was with David Guetta when she learned the Dave Audé remix of "We Are Young" had reached #1 on Billboard.  "It happened on Valentine's Day last year and I was super excited," she remembers. "It was like the best gift ever!"
Vassy is hoping for more love this Valentine's with "Mad". http://www.youtube.com/watch?v=S9LEaJTxMPg
Next up, she will release a special collaboration with Dave Audé and Crazibiza called "Hustlin'". The song was pre-released in the USA on Beatport this past holiday, and quickly jumped to the #1 spot.
Vassy's new single "Mad" is available now on iTunes and other online music retailers now. 
For more information on Vassy, visit her official website at http://www.kissmyvassy.com
Comments via Facebook
comments