Celebration of British Science Fiction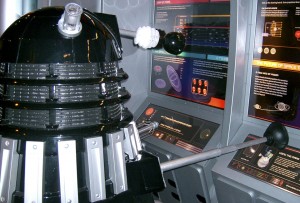 BritSciFi, now in its fourth very successful year, is the UK's largest family and fan event dedicated to all things Science Fiction and British.
The event has gone from strength to strength, becoming one of the Centre's most popular weekends of the year, with 2014 being on track to become another sell out.
Doctor Who celebrated its 50th anniversary in 2013, with fans getting their first glimpse of the new Doctor, played by Peter Capaldi, so of course the ultimate foes of the Doctor, Daleks and Cybermen, will be out in force.
Many of the stars of the Doctor Who series will join fans over the weekend, including one of the most loved characters, Sontaran Commander Strax, with his Paternoster Gang colleague Jenny.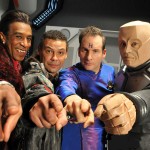 Also joining the event will be cast members of the hit show Red Dwarf. Craig Charles (Lister), Chris Barrie (Rimmer), Robert Llewellyn (Kryton) and Danny John-Jules (Cat) will all be dropping in on Sunday 02 March to host a Q&A session and meet families and fans.
Stars of the show Blake's 7, Paul Darrow (Avon), Jan Chappell (Cally) and not one but two actors who played the part of Travis, Stephen Greif and Brian Croucher will also be at the event on Saturday 01 March.
With the return of The Tomorrow People to our TV screens, the Centre is also hosting a reunion of the original cast.
One of the highlights of the show will be the inclusion of the aptly named "Anderson Alley".  This will bring together props, sets and costumes from many of Gerry Anderson's shows.  This will be hosted by Gerry Anderson's son, Jamie, who has invited many of the voices of the shows to join him, including the Tracy Brothers and the ever lovable Parker.
Alongside these guests will be displays, talks, workshops and competitions, in fact there will be so much to see and do one weekend might not be enough!
Full details of the show can be found here – www.britscifi.co.uk         National Space Centre, Leicester  –  1st & 2nd  March 2014
Comments via Facebook
comments