The Shorts Of It by G Alexander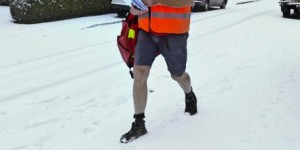 I've always been an advocate for the wearing of shorts. It may be a fetish or it might be just that I like to see a guy's legs, either way it's a trend that seems to be gaining momentum.
Whenever I go shopping, day or night, there are usually at least a couple of guys pushing their trolley whilst wearing shorts. It makes no difference as to the weather; snow, rain and cold appear to make no distinction to these hardy souls. Indeed, I rarely pass a postman by these days without the majority appearing to favour shorts over long trousers to deliver the mail. I'm not sure why this particular job should have taken so determinedly to exposing their legs but, as been reported in many recent articles, the postmen themselves say: 'There's an agreement between Royal Mail and the union which stipulates the rules about uniforms and there's nothing saying you can't wear shorts.' So, it would appear, if it doesn't specifically ban you from wearing such a garment, then  these days, more and more men are taking the shorter option.
Hoorah!
I do have admiration for those shorts wearers who have taken to being seen in them all year round and it doesn't seem to be an age thing. I have seen old and young, cute and not so cute, heavy and slim, all looking to show a bit of leg as they go about their business. Having said that, personally, I do prefer the warmer temperatures for my shorts fetish, that's why the central heating is kept high as I pretend my living-room is a lovely hot summer's beach in Spain.
Normally, I just wear shorts about the house. I get home, get rid of the suit and tie I've had to wear to the office and slip into a pair of my favourite adidas and I become a happy, and less uptight, bunny. The shedding of the daily 'uniform' is part ritual and part comfort. It's like when I'm away on vacation, I always make it a point of spending as much time as possible in just shorts and t-shirt because I know when I return I'll have to dress a certain way. Except now, I might change jobs and become a postman and then I could spend the entire year wearing my favourite item of clothing.
Do you prefer to wear shorts over trousers?
send you thoughts to: editor@bent.com
Comments via Facebook
comments