Confession: My Uncle's Boyfriend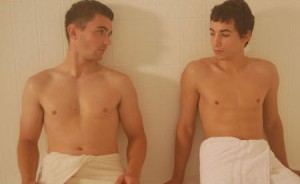 I've been shagging my uncle's boyfriend now for about 9 months.
We bumped into each other quite by accident at a local sauna. My Uncle Jim is about 40 and his boyfriend Tim is about 45, not particularly good-looking, he's a little fat but I get on with him so… he's OK.
Apart from the initial shock of seeing him (and him seeing me) we started to chat. It wasn't long before I was totally relaxed in his company and I was telling him all kinds of things that up until then I'd kept to myself. It was nice being able to talk about such things openly and not have to worry.
Watching other men in the sauna touching and stroking each other I got hard and embarrassed at the same time. But Tim just leaned over and began sucking my cock as if it was the most natural thing to do. It felt fantastic and my insides turned to jelly as I quickly reached my orgasm. Part of me wanted to dash out of the place because I was horrified as to what had just happened but, and this was the turning point, I had enjoyed it so much I wanted more.
Later he asked me to go with him to a private booth and I have to say I was enjoying the attention and agreed. Behind closed doors he got even more passionate and it wasn't long before he had my legs spread wide and his thick cock stuffed up my bum and was screwing me wildly. That was my first time and although at some point it hurt like hell, I also loved it. Tim was patient and so fantastic I think I fell for him… a bit.
Since then… almost every Saturday morning when dad's out working and mum goes shopping, he comes around and we shag. Well, he does the screwing I just provide what he needs as my little single bed springs get one hell of a workout. Every time he comes he teaches me new positions or has interesting ideas, he's just brilliant to be with. I know I should feel guilty, and so should he, but we like each other's company and as long as my parents and my uncle don't find out I think we'll be fine.
Matt, South Yorkshire
If you have a confession you'd like to share, send it to editor@bent.com
Comments via Facebook
comments