Bent Fiction – Peachfuzz by Les Lea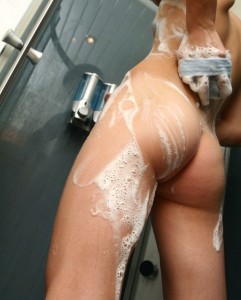 The most beautiful and erotic sight in the world was just a few inches away. Peachfuzz covered those glorious pale globes that lay waiting for inspection as I gazed in anticipation and excitement. Daniel's bum was a masterpiece; blemish free, smooth and incredibly inviting.
He was perfection itself; small hips, long legs, topped by a succulent long cock but nothing was comparable to his superb young bottom. It was, after all, what had attracted me to him in the first place. I'd watched him at the bar; slightly bent over giving is order to the barman over the noise of the crowd. His tight jeans moulded themselves to his contours and the back seam just added more definition to what was already a work of art. From what I could gather he was alone, although I could see his arrival had already created quite a stir with some of us, shall we say, older customers?
Not that I'm at pensionable age but I am considerably older than this perfect boy. I'd made eye contact first and I was very surprised that he made his way over to me, instantly angering others who had hoped to share the evening with this piece of… perfection. We chatted, he was 18, his name was Daniel and he wanted to get laid; quite a lot of information to get over a pint of lager. I half jokingly suggested that I would gladly do the honours if he was really desperate. He looked me in the eyes and told me I was exactly what he wanted.
We drank up and left.
We were back at my place in less than 15 minutes and 25 minutes later, after a short time kissing and cuddling, he was on his stomach and begging to lose his virginity. I was astounded at the depth of his desire and in the little light of the bedroom I admired those perfect globes, now free of any restrictions. They were firm and tender and soon… so unbelievably welcoming I couldn't believe my luck as I pressed forward. To help on his first time I lubed him well and my dick slid in slowly. I let his bum grip and relax as I fed it bit by bit and hoped that this wasn't all a dream and I'd wake up before I'd had chance to complete what I'd started. Thankfully, this wasn't a dream and once in I slowly started my rhythmic thrusts, while nibbling, stroking and whispering encouragement.  He moaned and writhed and stretched and humped and pleaded with me to do it again and again and again. After a marathon session we collapsed, completely shagged out, and drifted off into soporific contentment. A couple of hours later I awoke and that naked peachfuzz bum was still only inches away… I thanked God I hadn't dreamed the entire experience.
I watched in fascination as he breathed, his body almost imperceptibly rising and falling in a most delicate manner. I suppose, if I thought about it deeply enough, I would wonder about this lad's lost innocence but in truth, who was I to interfere with a young man's burgeoning sexuality? I was only glad he'd chosen me to be his first. As he slept I gently traced my fingers over those naked pale mounds. My featherlight touches imperceptible on his smooth, glowing skin. At 18 he was still strangely unaware what effect his tight little bum caused when he walked down the street or entered a room and it was only last night when he found that it was used for more than just sitting on. I traced my fingers further down the dark cleft and felt the stickiness that I'd deposited there just a few hours earlier. Sleepily he wriggled under my touch as he regained consciousness. I removed my digits suddenly aware that this gorgeous guy might, in the light of day, realise he'd made a huge mistake.
He smiled and asked me what time it was. I told him as he yawned and stretched to greet the morning and, as he skipped from my bed, said he was sorry but he had to be on his way. Again I was worried that having seen me in daylight, he would be full of anger and disappointment that he'd spent the night with me but that wasn't the case. He reached over and kissed me on the lips for a few seconds, said thanks and asked if he could tak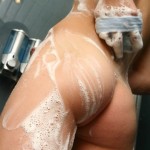 e a shower.
From where I lay in bed I could watch as this most gorgeous of gorgeous creatures turned on the warming jets and created a cascade of foam as he cleaned himself up from the night's sweaty action. He was thorough but the soapy suds seemed to add yet another dimension to the beauty of my guest. I watched, and as I watched my cock reacted. Bloody hell, I thought, yet another fabulous image to go with every other one from a night of superb memories. The soapy peachfuzz was soon washed away as the shower did its work and soon he was towelling himself dry at the side of my bed. He checked where his pants were and having satisfied himself that he was dry and his clothing was in order, dressed in just a few short minutes.
He turned at the bedroom door, looked back at me and I thought that was it, but no. He came back to my bed and kissed me even longer this time. Once he'd released himself from my rather clutching embrace he smiled again and this time asked me if I fancied going for a meal that night… if I had nothing else to do. My heart jumped and I stuttered that it would be nice… however, would he like me to make him a meal and he could come back here. He thought for all of two seconds. "Yep, that's an even better idea," he said. "I'll see you around 7."
My dick, which had been at full throb since Daniel went to the shower, would now have something to look forward to… if only I could get it to go down.
Comments via Facebook
comments